HOLIDAY BAG
Enjoy the convenience of having one bag for everything
The HOLIDAY 4-in-1 convertible bag is a game-changer when it comes to versatility. Whether you need a practical crossbody bag for running errands, a mini backpack for hanging out with friends, a stylish gym bag for your workout sessions, or a travel backpack for a weekend getaway, the HOLIDAY bag has got you covered.
Crafted from high-quality, sustainable materials, this bag is both lightweight and durable, ensuring that it will be your go-to accessory for years to come. But that's not all. With its 4-in-1 sustainable design, you get more functionality with fewer bags, making it an eco-friendly choice for conscious consumers.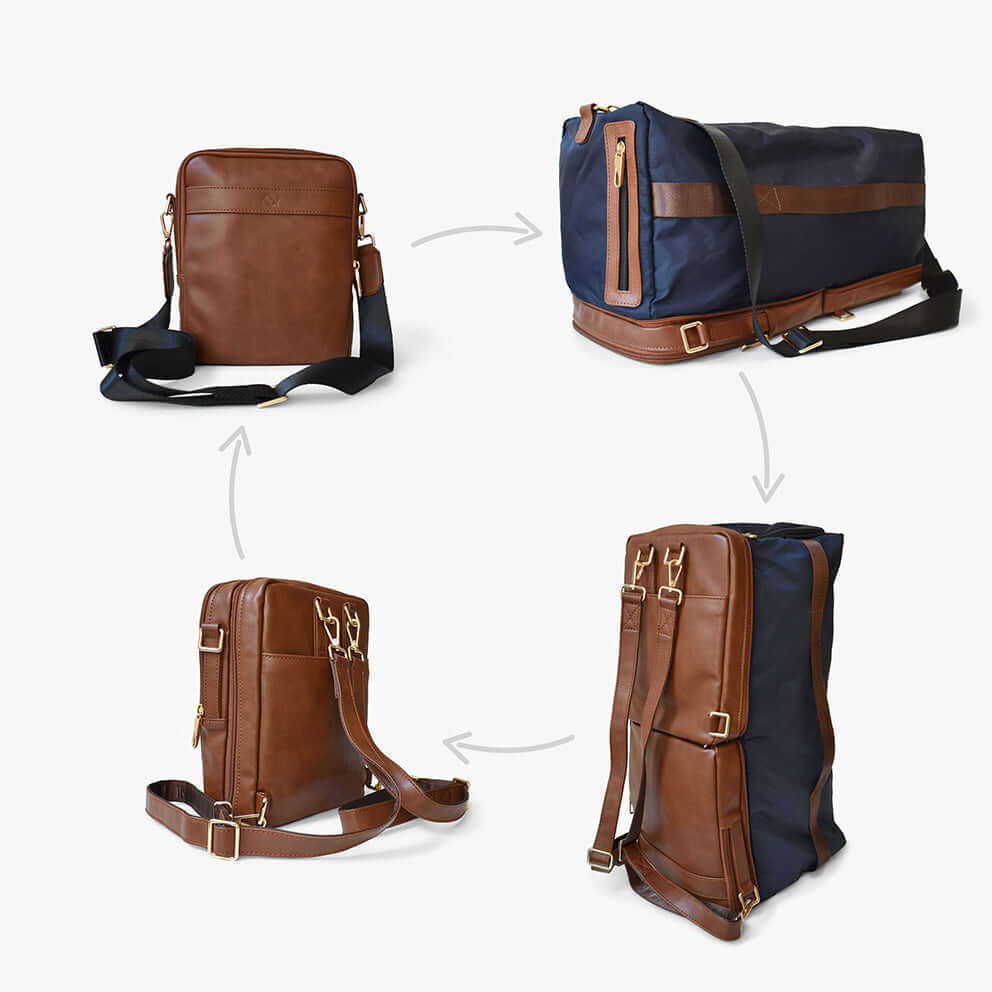 HOW IT LOOKS
HOLIDAY convertible bag - where style and functionality go hand in hand.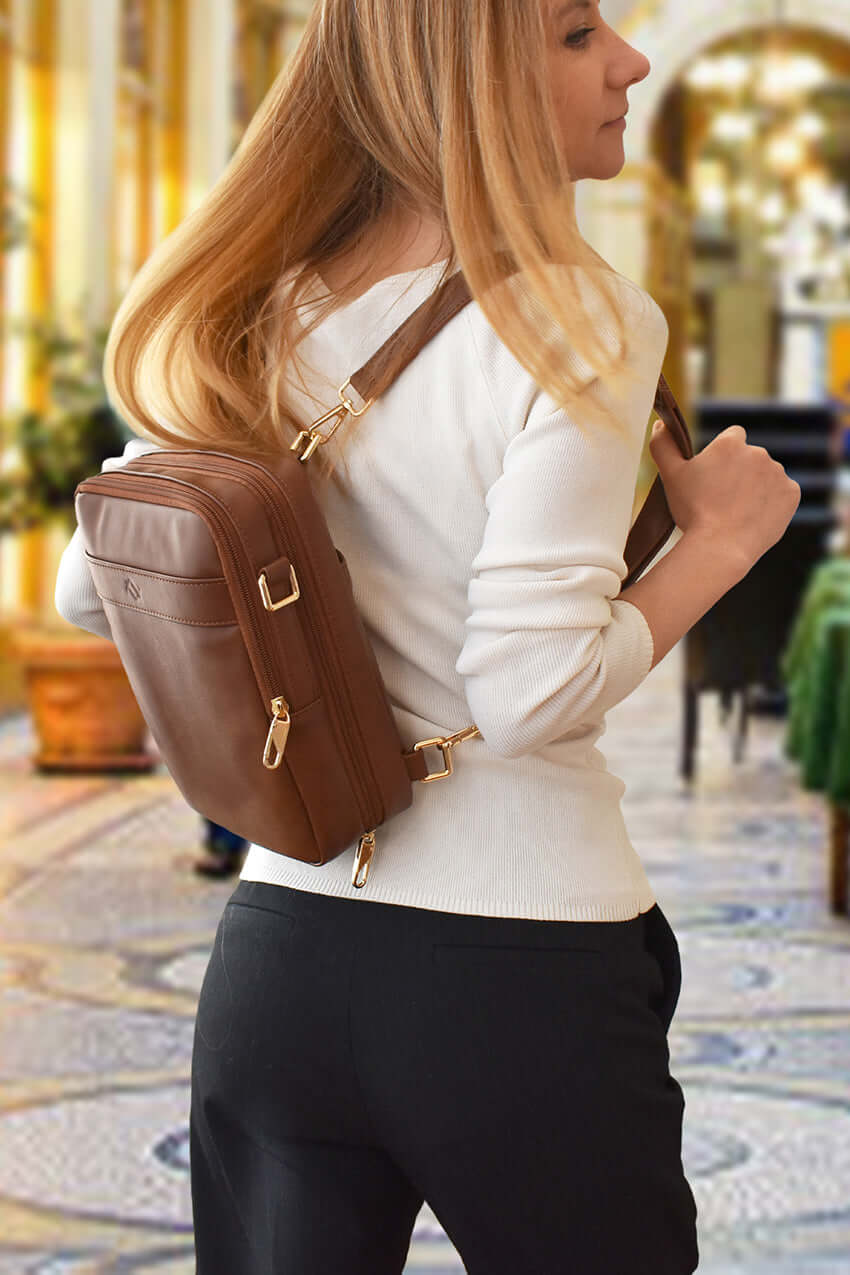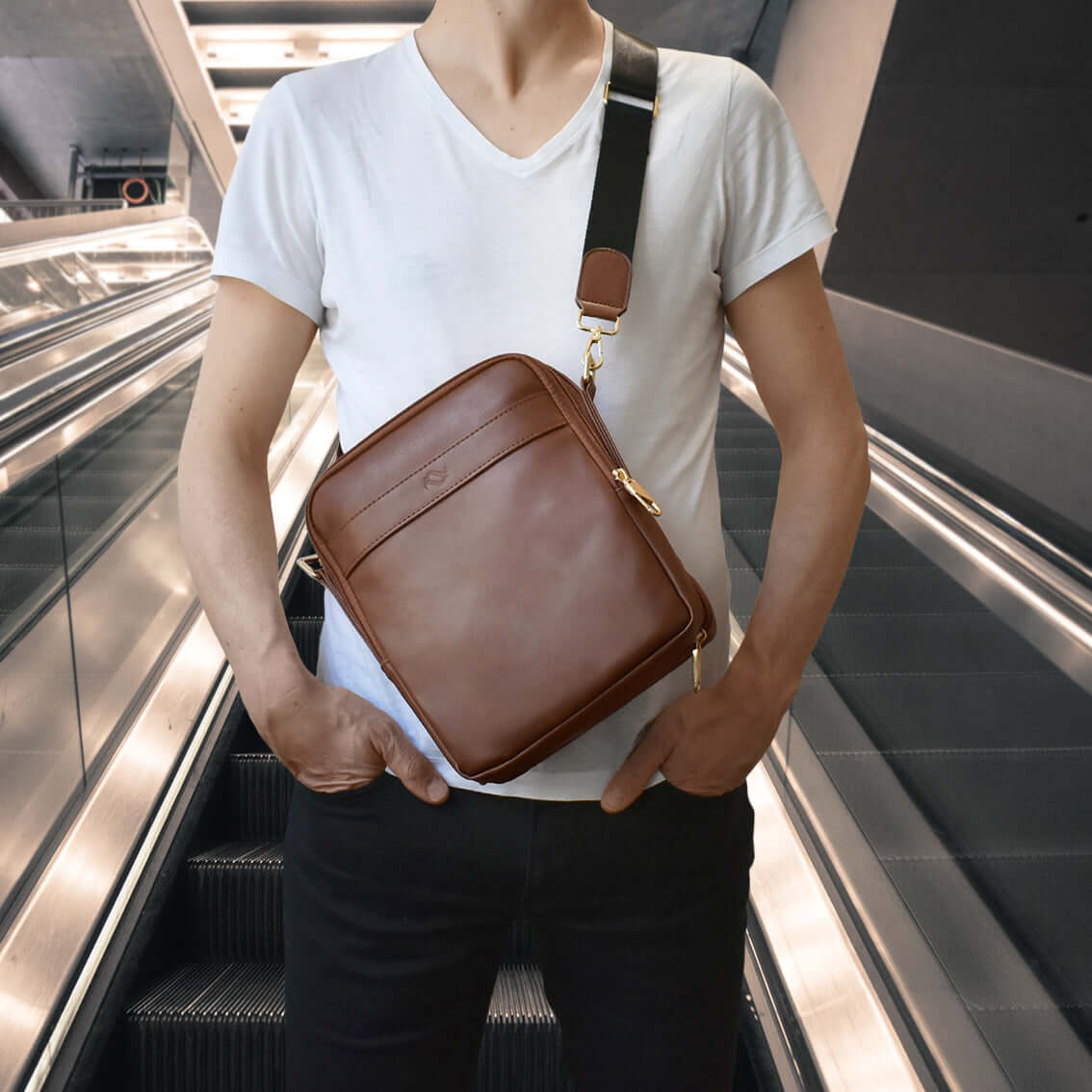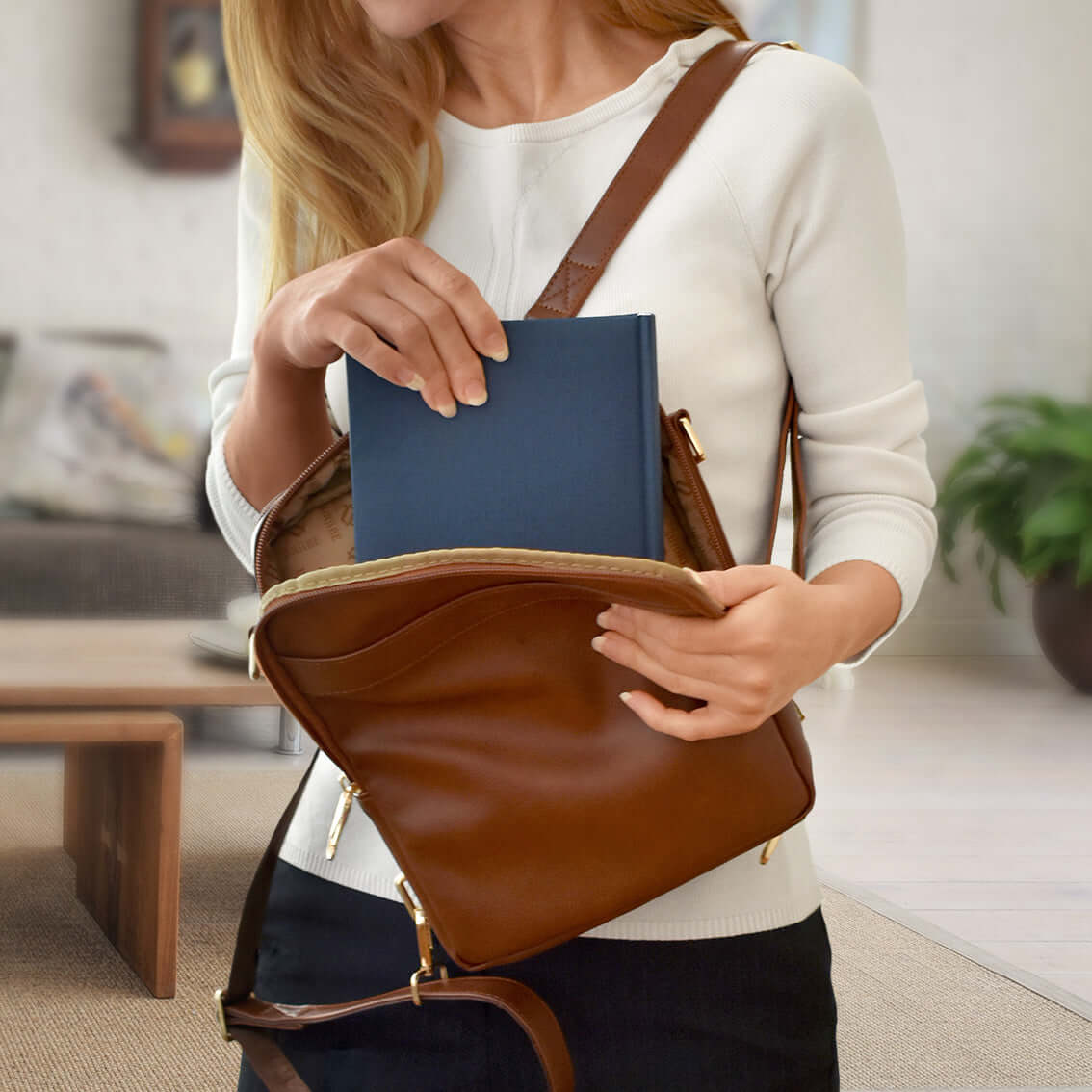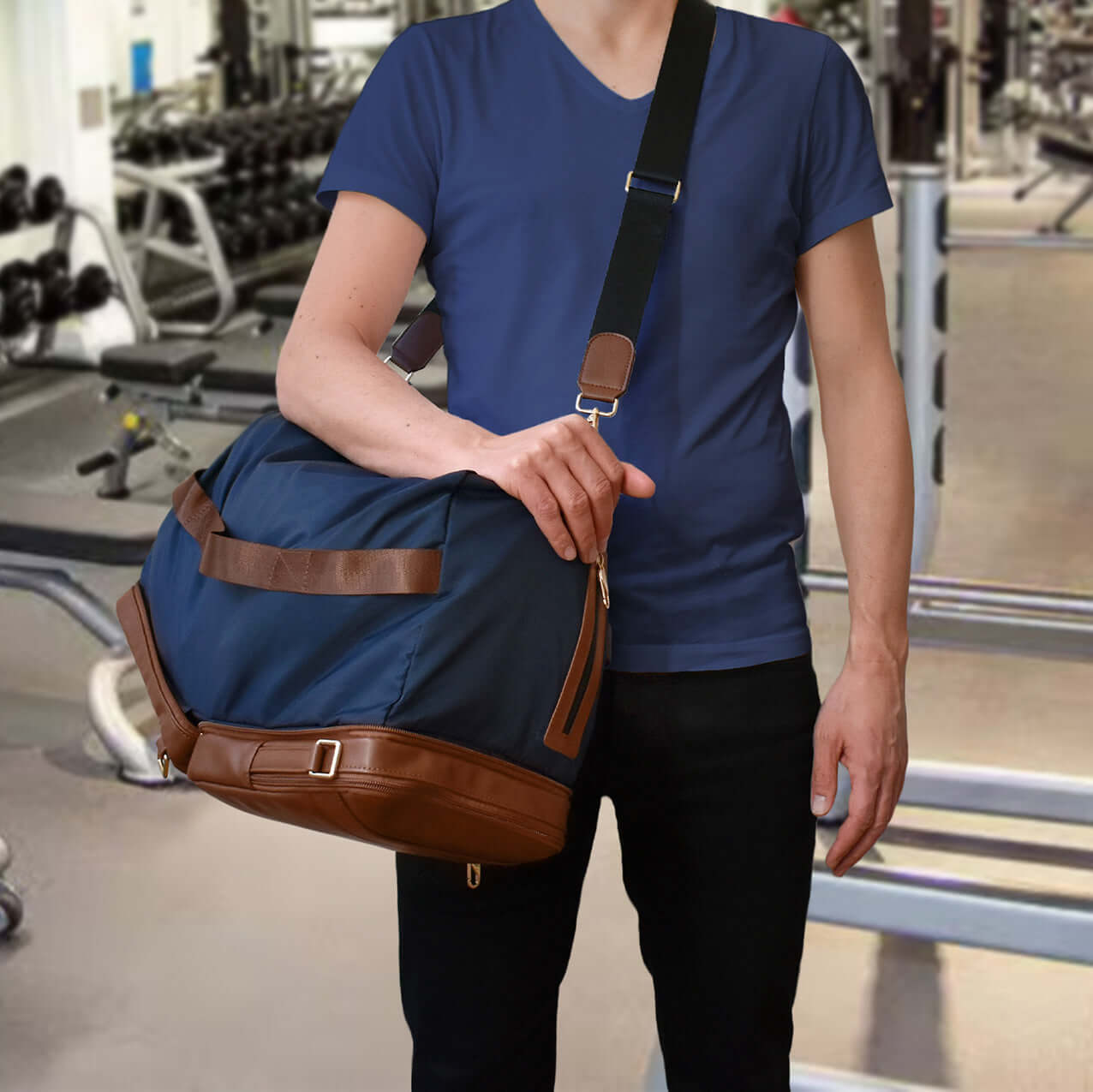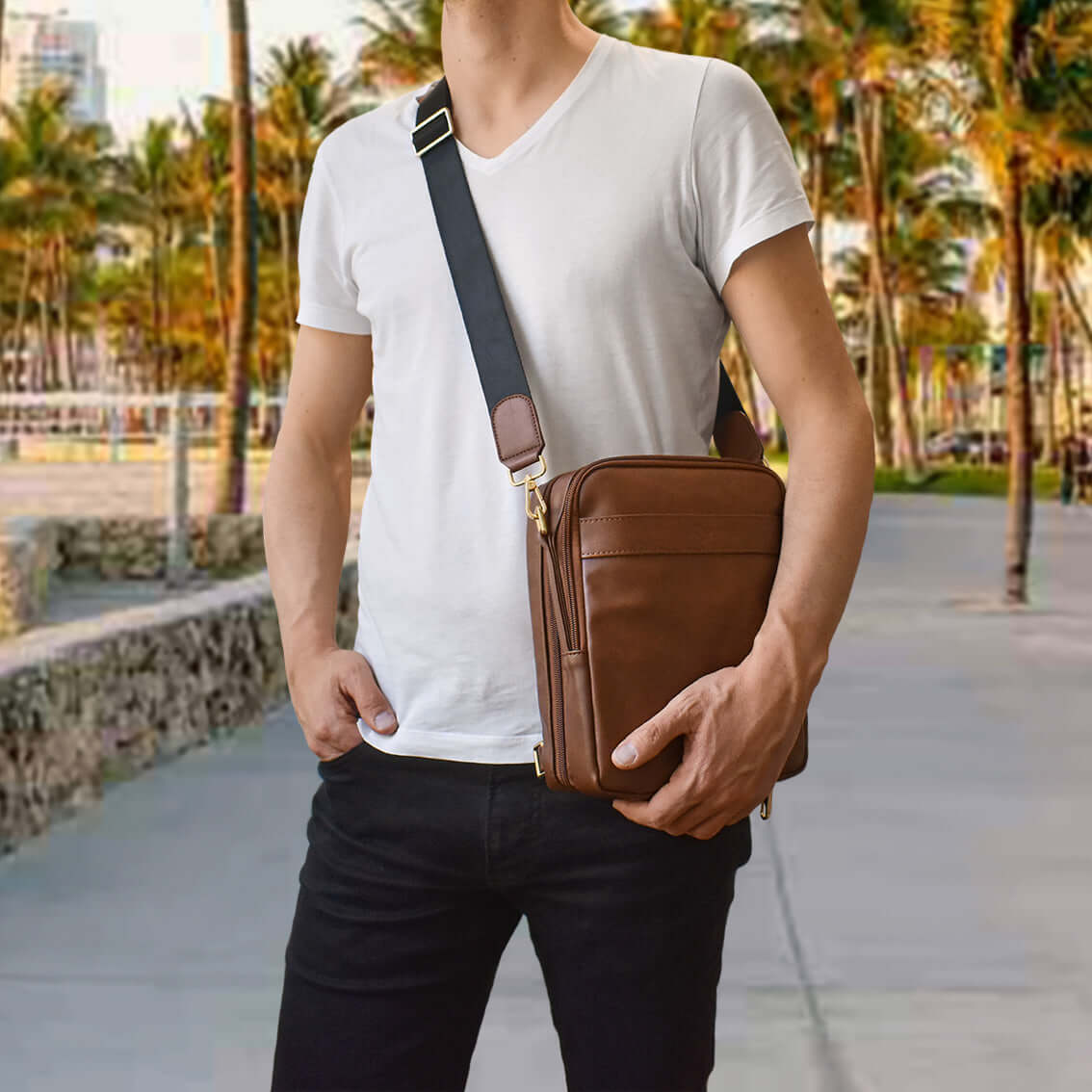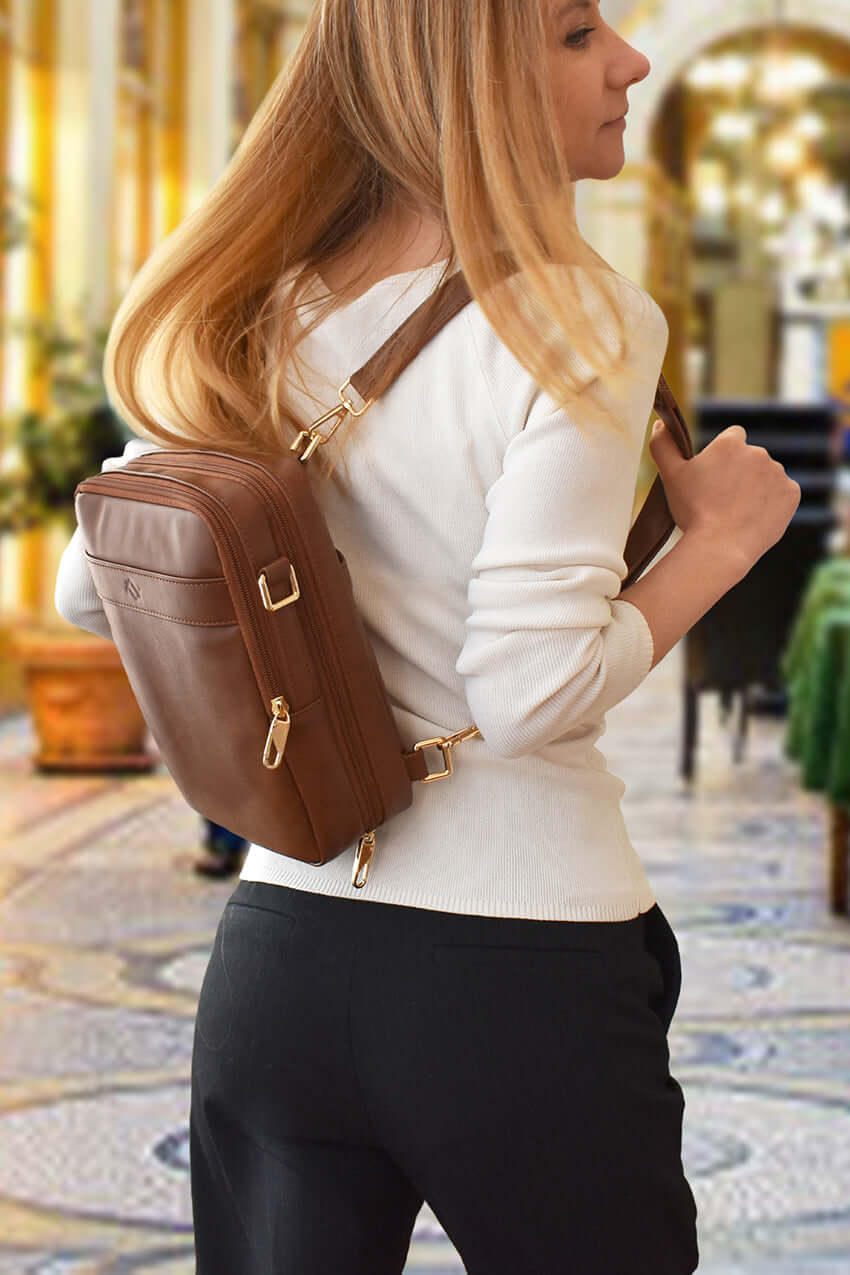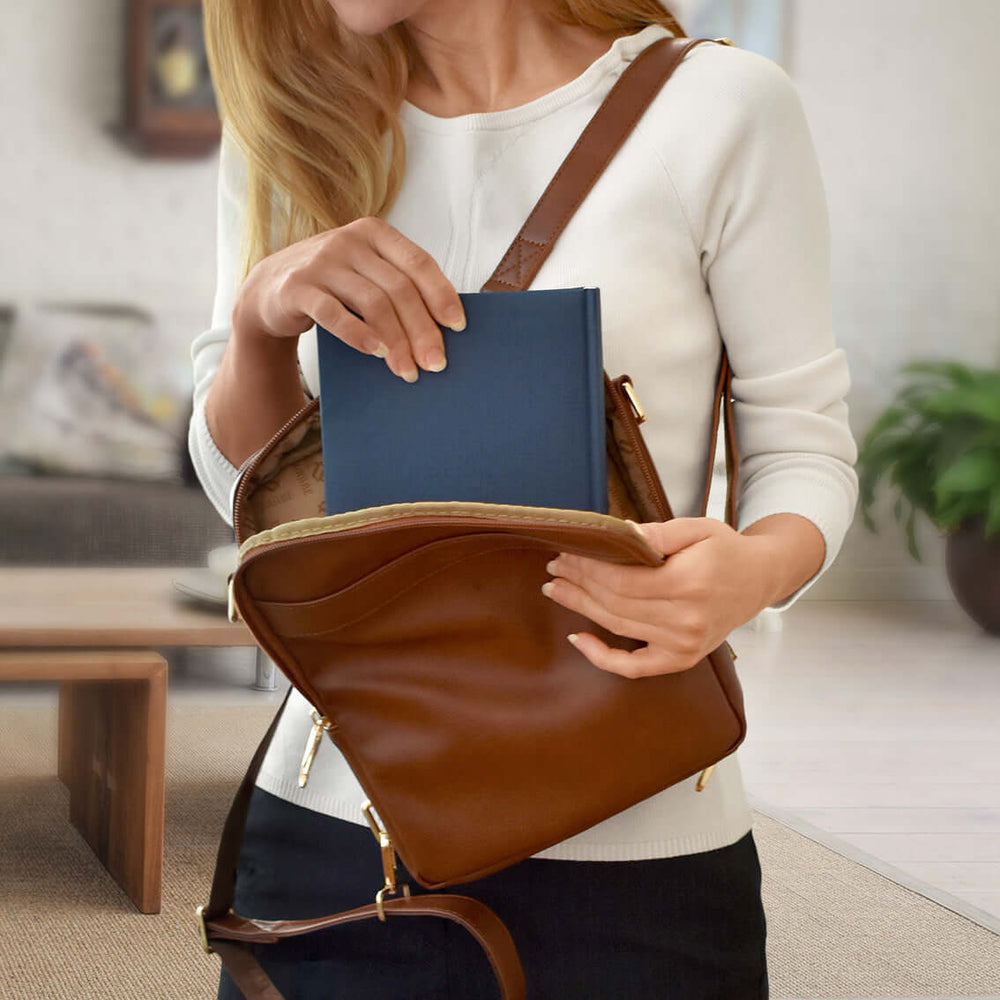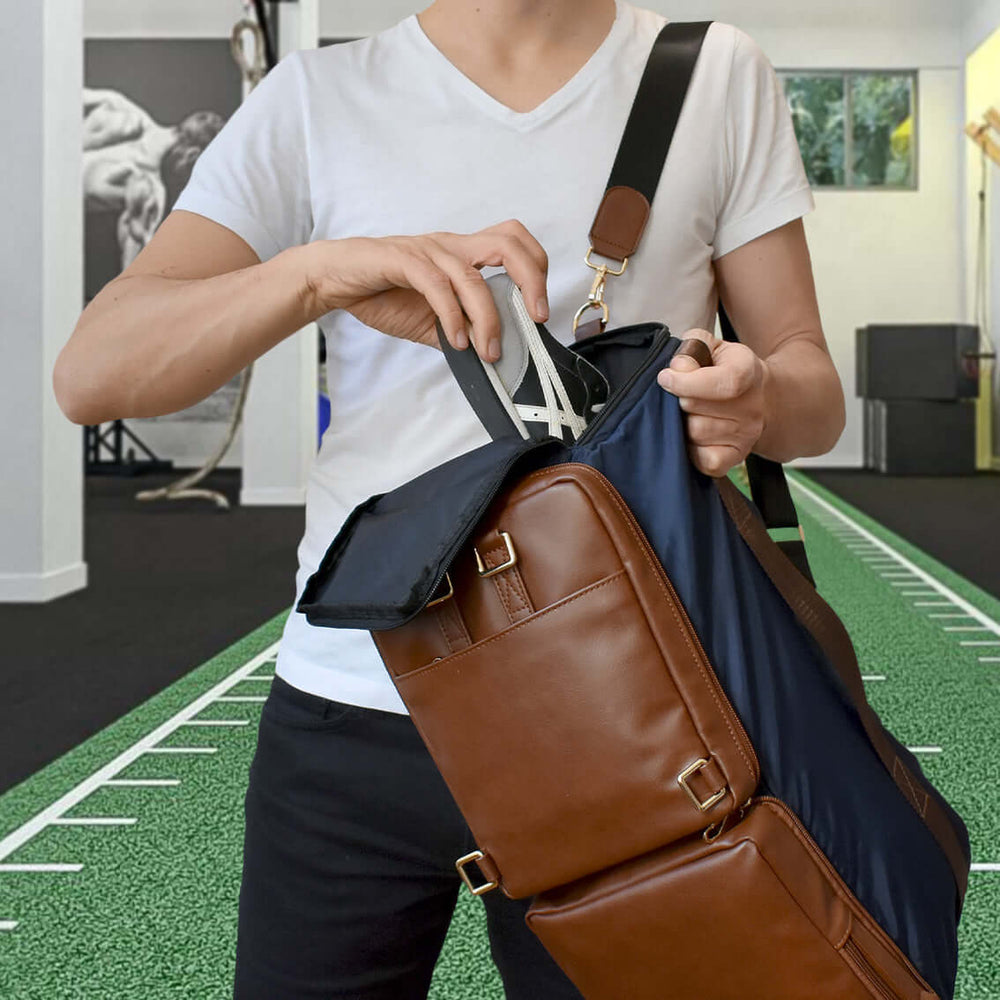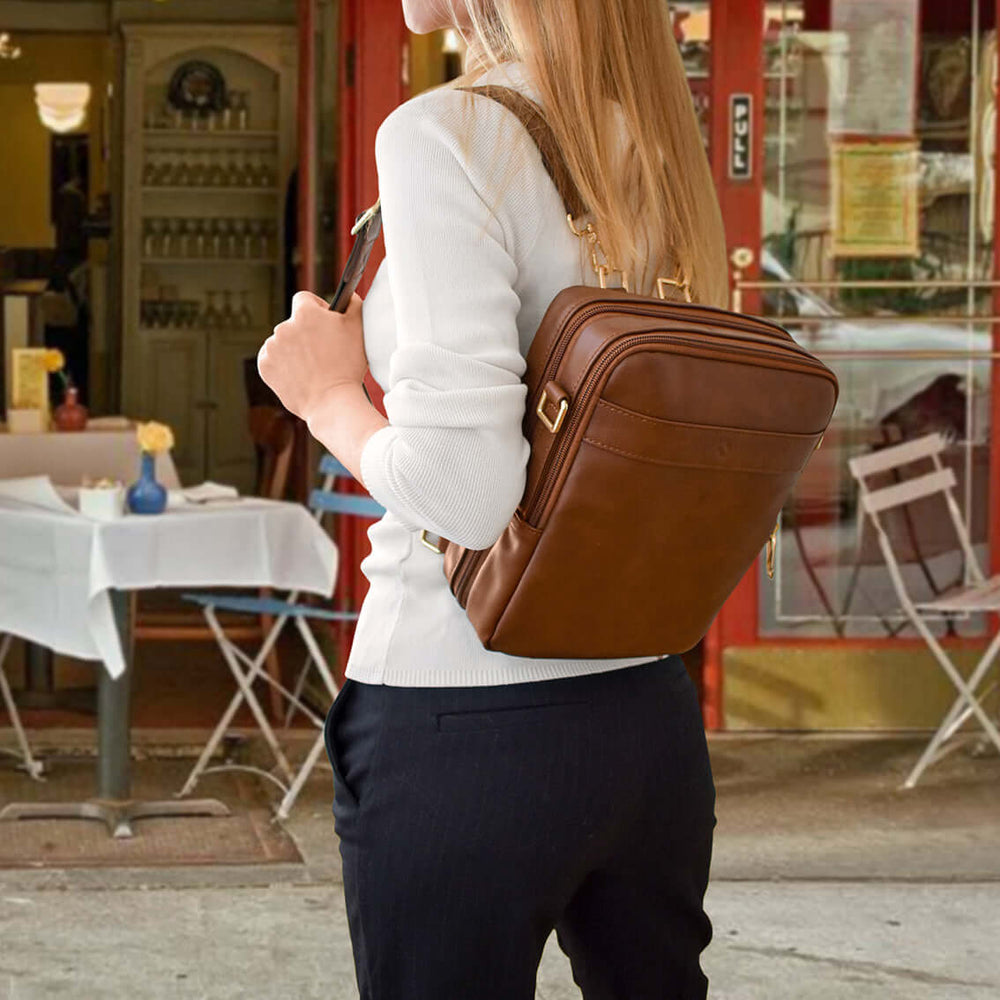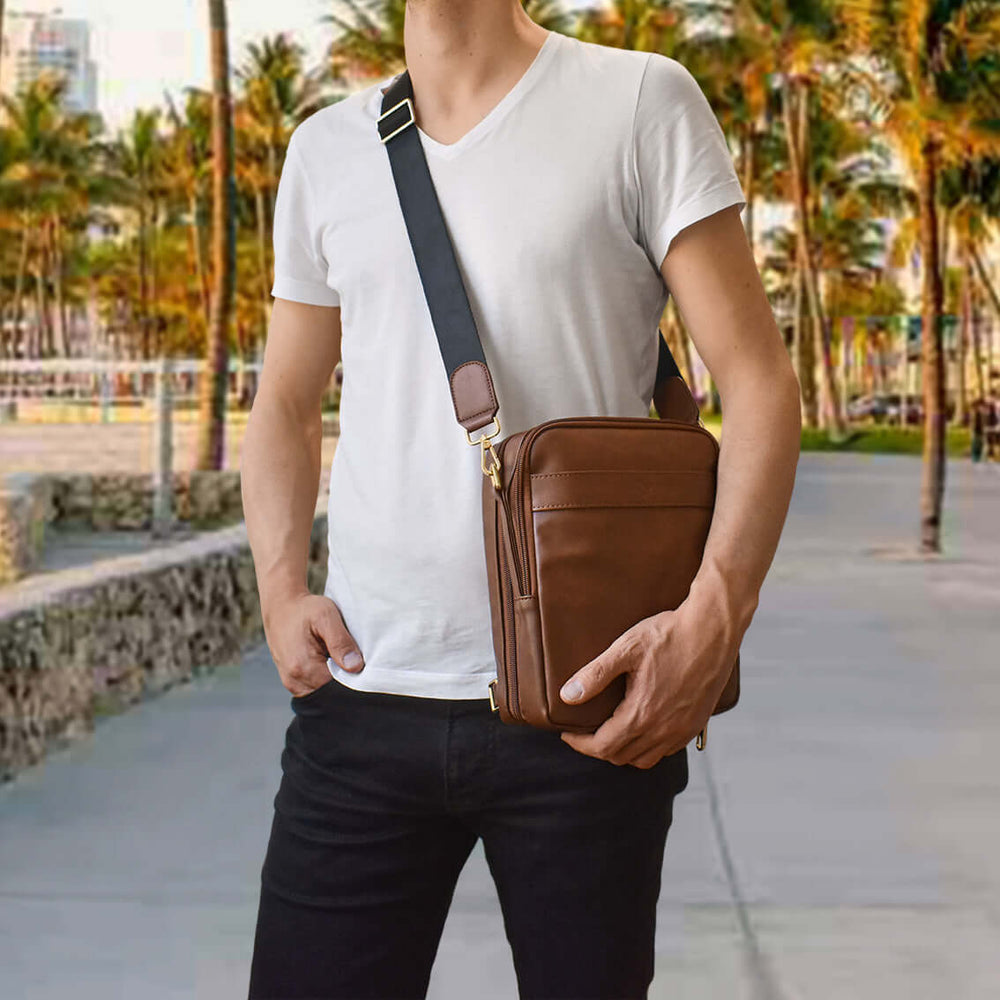 DETAILS MATTER
A bag designed with your comfort and convenience in mind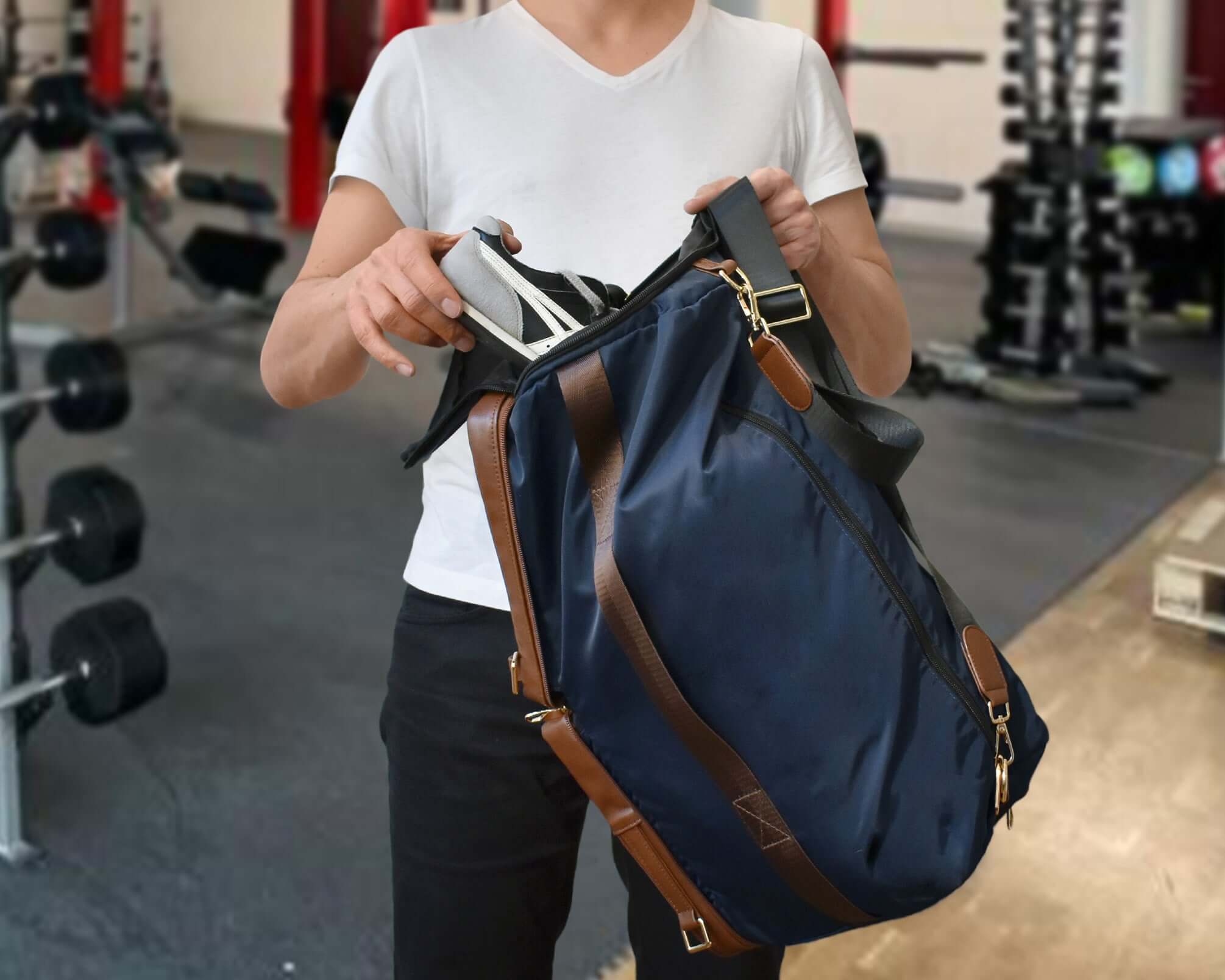 Shoe Compartment to keep it clean
The HOLIDAY duffle and backpack versions have a practical shoe compartment that's perfect for keeping your dirty or damp clothes and shoes separate from the rest of your belongings. Whether you're carrying your muddy hiking boots, sandy beach towel, or damp bathing suit, this compartment ensures that your clean clothes and gear stay dry and fresh.
Triple Side Handles for easy grip & carrying
The HOLIDAY duffle bag and backpack feature long triple side handles on each side. These handles provide three grip points on each side, making it easy and comfortable to handle your bag, no matter how heavy it is. But that's not all - the middle sections of the handles also allow you to attach the bag to your suitcase so you can roll your luggage through the airport with ease.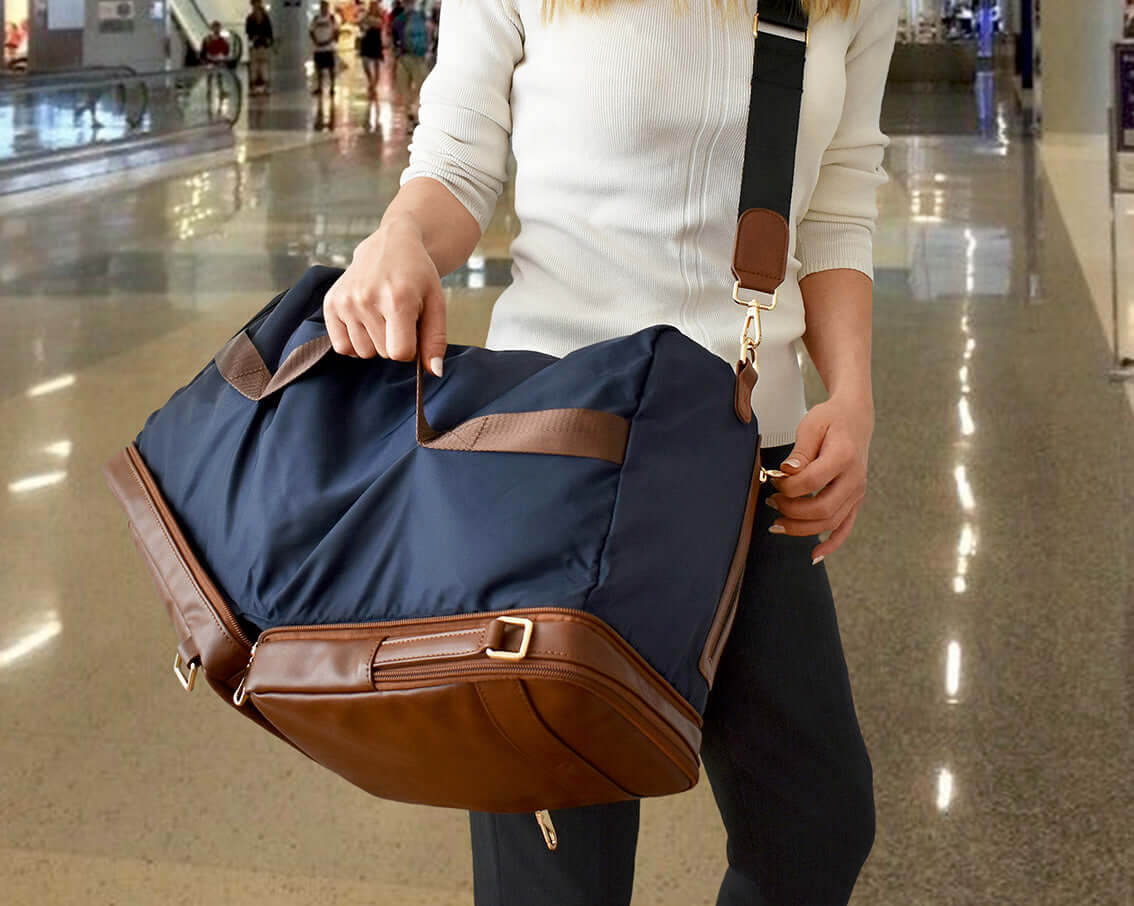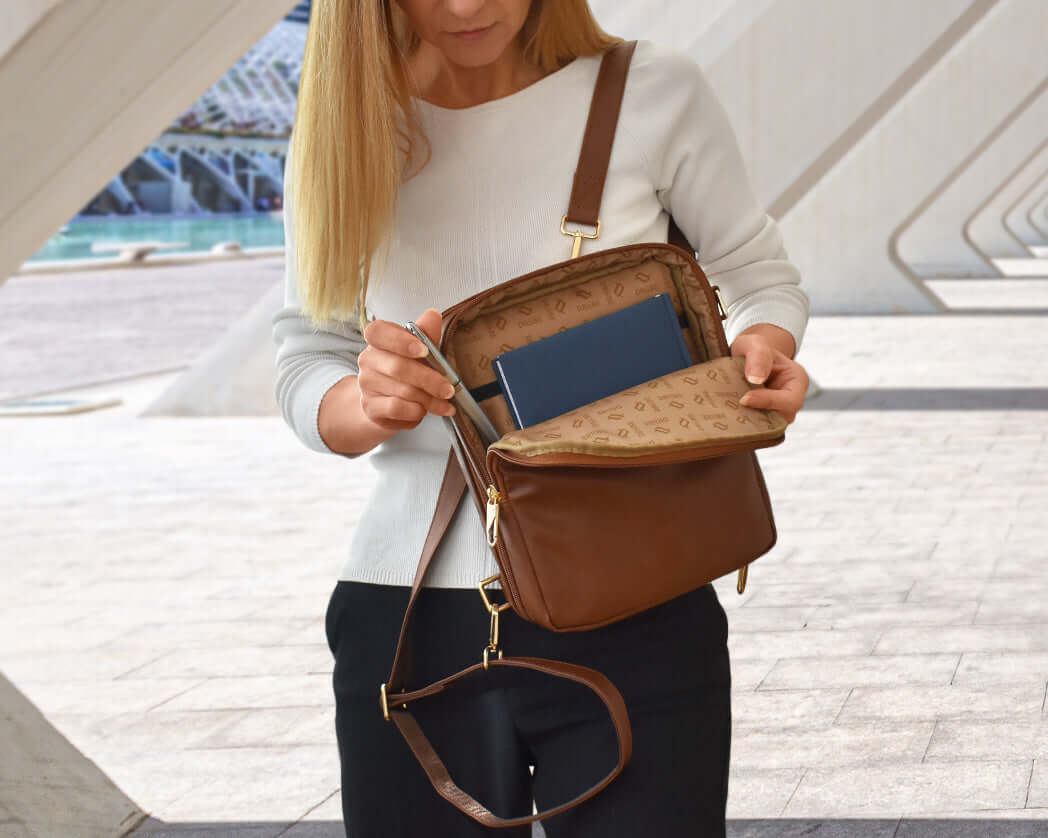 Pen Holder
Tired of rummaging through your bag every time you need a pen? Well, with the HOLIDAY bag's pen holder, that problem is a thing of the past. This small but incredibly useful detail keeps your writing tools handy and organized, ensuring that you can quickly jot down a phone number, or a brilliant idea without any hassle.
Handy Pockets to stay organized
Whichever version of the HOLIDAY bag you're using, you can be sure that your essentials will be perfectly organized and easy to find. With its thoughtfully designed pockets and compartments, this bag makes it easy to stay on top of your busy life, no matter where your day takes you.
Adaptable Capacity for ultimate freedom
Enjoy the freedom of choice! This convertible bag can go from 2 to 27 liters in less than 3 seconds! Whether you need a small crossbody bag for your daily essentials or a large backpack for your weekend trip, the HOLIDAY bag has got you covered.
Versatile
HOLIDAY's 4-in-1 convertible design offers unmatched versatility that adapts to your changing needs throughout the day. Whether you're running errands, hitting the gym, hiking a trail, or traveling to new places, this bag has got you covered.
Sustainable
Made with the + in 1 philosophy and sustainable materials, HOLIDAY has the lowest environmental impact of any other bag on the market, saving environmentally harmful production cycles, reducing CO2 emissions and the exploitation of natural resources such as water and electricity.
Solidary
By purchasing the HOLIDAY bag, you not only get an amazing product, but you also contribute to supporting victims of domestic violence. We donate a portion of our profits to shelters that provide assistance to those in need, so you can shop with purpose and make a positive impact in someone's life. 
Free shipping
We don't want shipping costs to hold you back from upgrading your travel style. That's why, when you purchase the HOLIDAY bag, we offer you the convenience of FREE shipping, no matter where you are in the world.
ECO-FRIENDLY MATERIALS
To ensure high performance and sustainability
The remarkable functionality of the HOLIDAY convertible bag is further amplified through the utilization of cutting-edge, environmentally sustainable materials. We take great pride in using tested and certified ecological materials throughout the bag's construction.
Each part of the bag is carefully crafted from the most suitable ecological material, not only to ensure top-notch functionality but also to create a visually appealing impact that you'll love.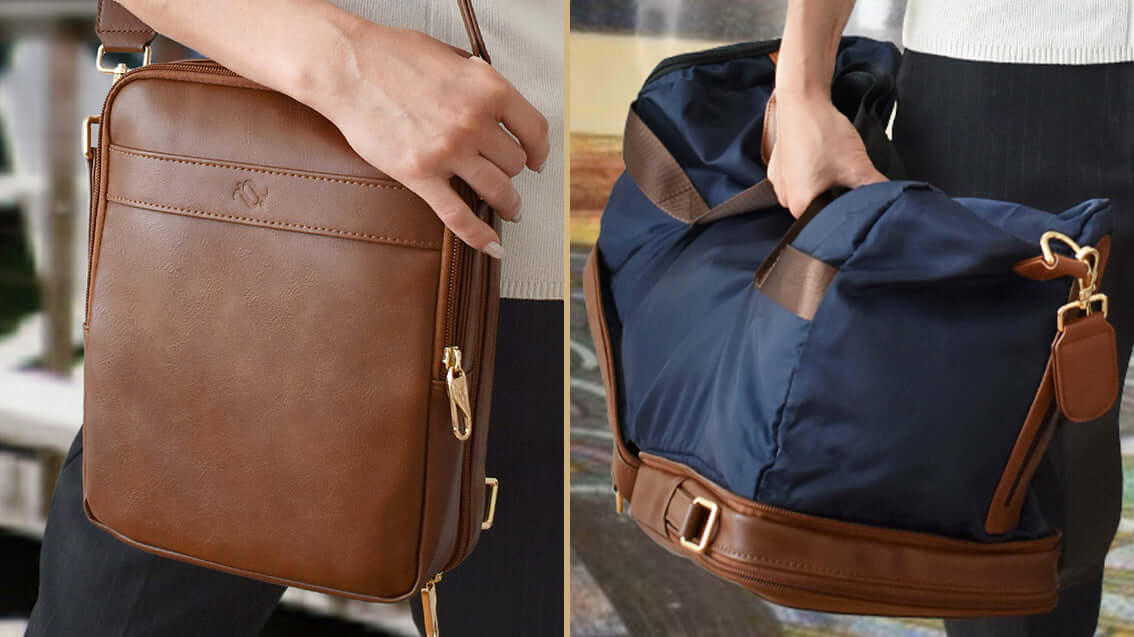 DMF free water-based PU leather
For the crossbody bag and mini backpack versions, we carefully selected DMF-free water-based PU leather to enhance their elegance and style. The unique properties of DMF-free water-based PU leather are truly remarkable:

• It's 100% vegan, making it a wonderful choice for those who value animal-friendly materials.
• You'll appreciate its non-toxic nature, as it lacks any peculiar smell and harmful chemicals like DMFa, DMFu, o-benzenes, PAHs, APEO, azo, and PBA.
• This leather meets the highest environmental standards, such as REACH and ZDHC, ensuring a responsible manufacturing process.
• In terms of physical properties, it boasts exceptional features like abrasion resistance, cold resistance, breathability, aging resistance, and a soft texture with a beautiful appearance.
• Its production process is excellent in terms of eco-friendliness, consuming less energy and producing no waste water or exhaust gases.

Thanks to these incredible qualities, DMF-free water-based PU leather emerges as the perfect alternative to natural leather. It offers a sustainable and responsible choice without compromising on style and elegance.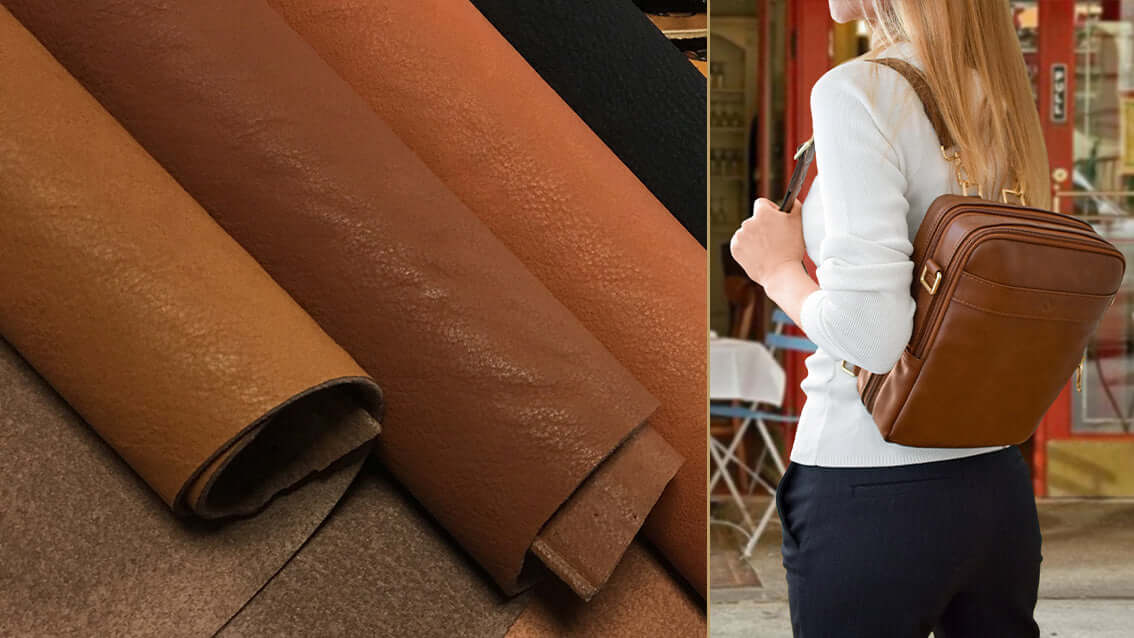 RPET
To make the duffle and backpack versions even better in terms of practicality, functionality, and sustainability, we opted for lightweight RPET fabrics. These fabrics have a gentle look and feel, and they are actually made from recycled plastic bottles. By using only recycled fabrics that meet the standards of the Global Recycled Standard (GRS), we ensure responsible production without the use of harmful chemicals and a certificated supply chain. So you can feel good about choosing the HOLIDAY bag!
**THIS PRODUCT IS PROTECTED BY THE INTERNATIONALLY REGISTERED DESIGN