DAKOTA
Fully convertible bag with 27 features
DAKOTA is a women's travel bag that really deserves the name "CONVERTIBLE".

The vast majority of so-called "convertible" bags do not actually change their shape, nor their appearance, nor their carrying capacity. They simply allow you to add shoulder straps and carry the same bag differently.

DAKOTA is different, it's an authentic convertible bag.
Thanks to its innovative, patented design, DAKOTA easily convert into:

- an elegant handbag, perfect for a dinner out or shopping in the city;
- a small, stylish daypack, ideal for all daily activities;
- a spacious travel backpack, perfect for longer trips and hikes.

Each of the three bag versions is designed so that you would never think they are the same bag. No one will ever imagine that the backpack you arrived at the hotel with and the handbag you go to dinner with are the same bag!
Stylish
You can finally travel with a truly elegant and feminine design bag, carefully designed to fulfill a woman's specific travel needs.
Space Saver
We know there is never enough room in your suitcase! When you travel with DAKOTA, you don't need to bring other bags with you: use the space you save in your suitcase to store more clothes or toiletries.
Comfortable
Your bag comes with essential accessories that guarantee you comfort and well-being, especially during long journeys. No more back or shoulder pain.
Money Saver
Make your wallet happy! Choosing DAKOTA is buying one bag but having three - a handbag, a daypack, and a backpack. If you were to buy three high-end bags separately, you would spend a lot more!
Sustainable
Made with the + in 1 philosophy and sustainable materials, DAKOTA has the lowest environmental impact of any other bag on the market, saving environmentally harmful production cycles, reducing CO2 emissions and the exploitation of natural resources such as water and electricity.
100% Vegan and Cruelty-Free
We don't use animal leather. Instead, we use premium quality DMF free water-based vegan leather. This way we can offer you a more ecological and cruelty-free product without compromising on quality.
Ideal for everyday and travel
With DAKOTA, you have a bag for every occasion: for a weekend getaway or communting, for dinner out or for a yoga or gym session, for spontaneous shopping or an afternoon on the beach, for a long intercontinental flight or excursion in the city.
Solidary
By purchasing DAKOTA you support victims of domestic violence.
HOW IT LOOKS
Functional, luxury, sustainable. The only bag you will want to travel with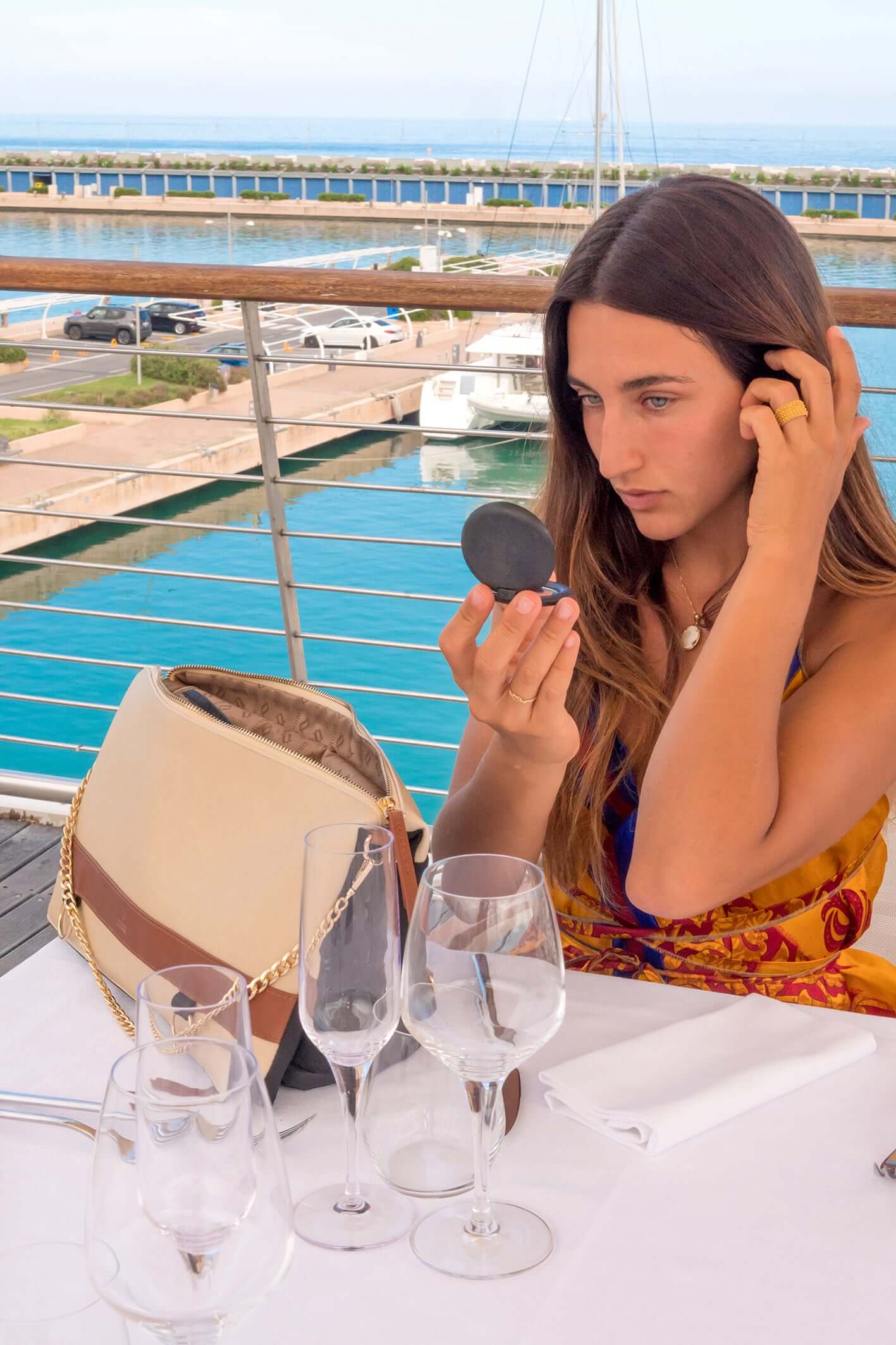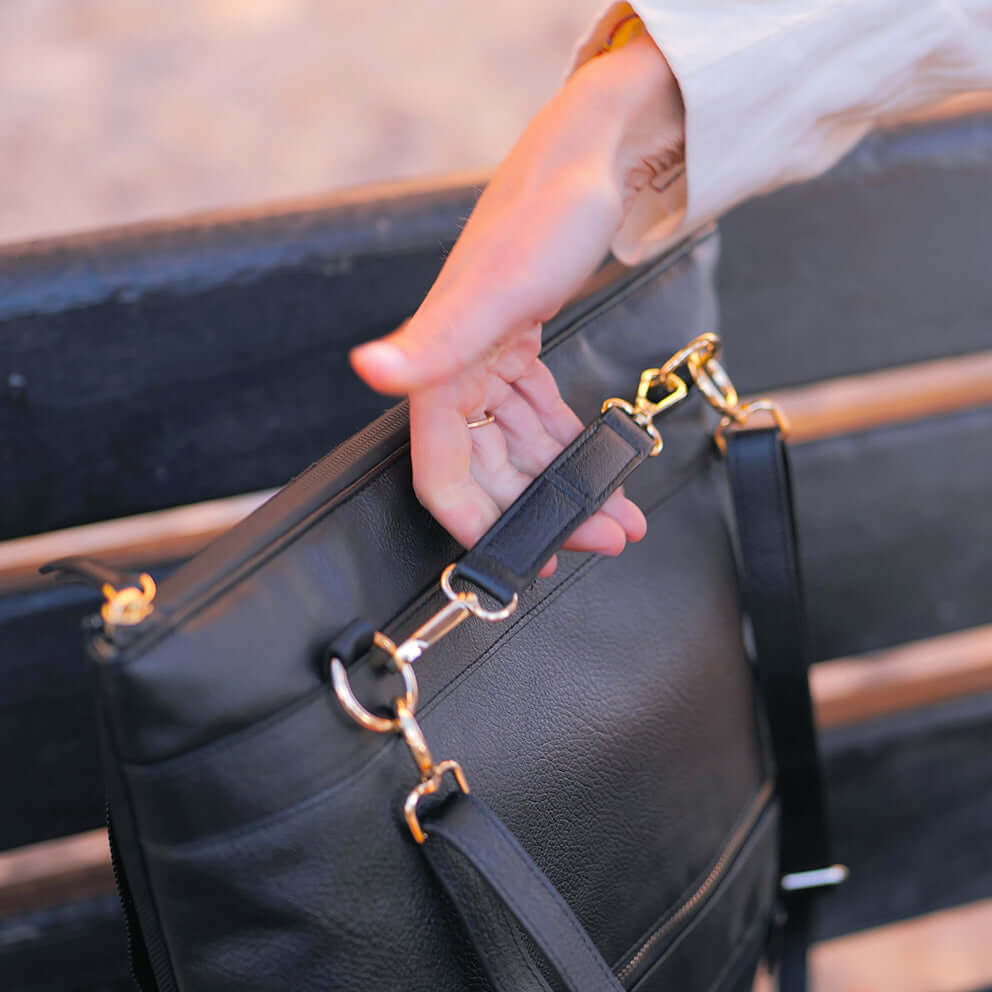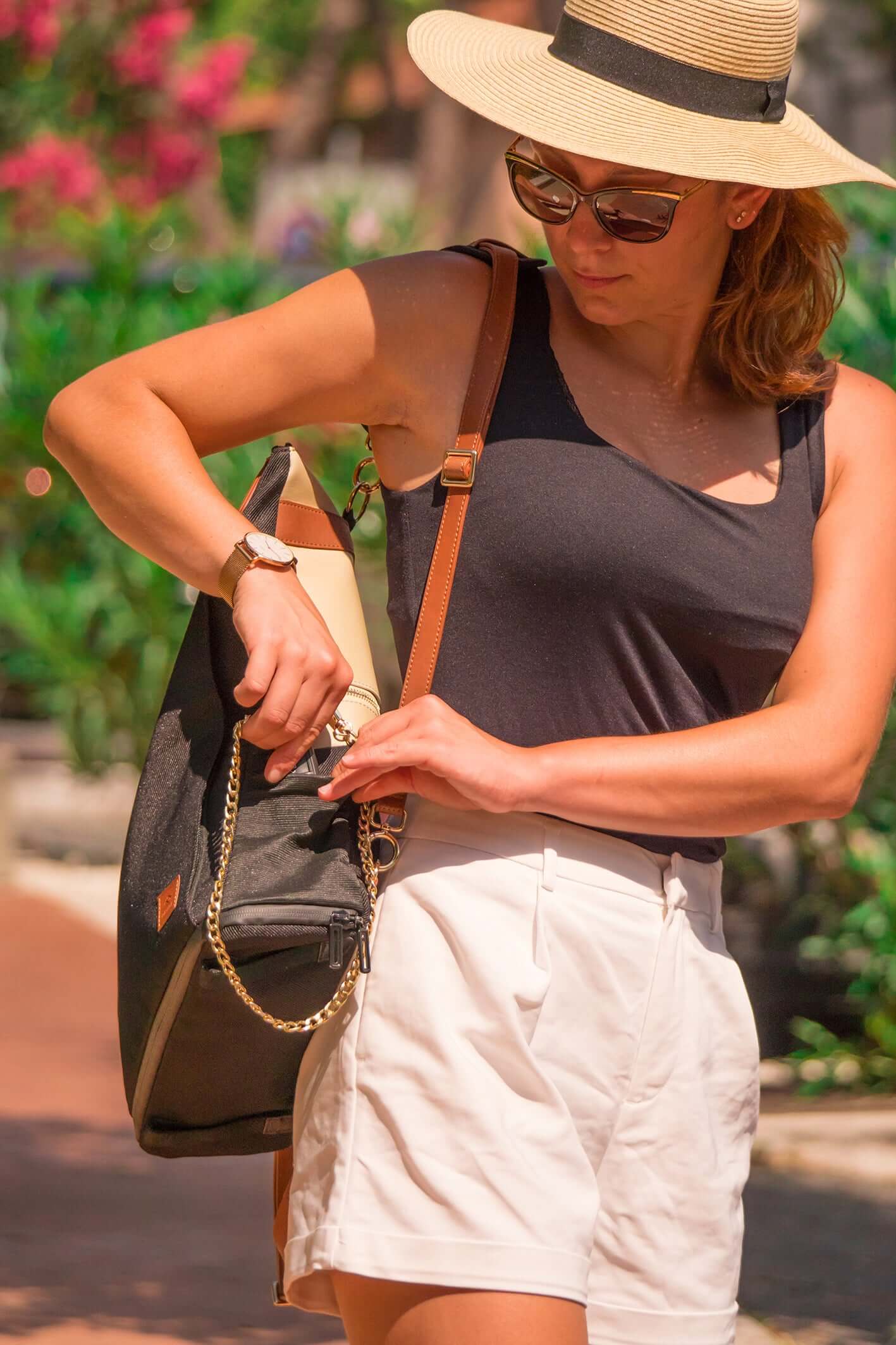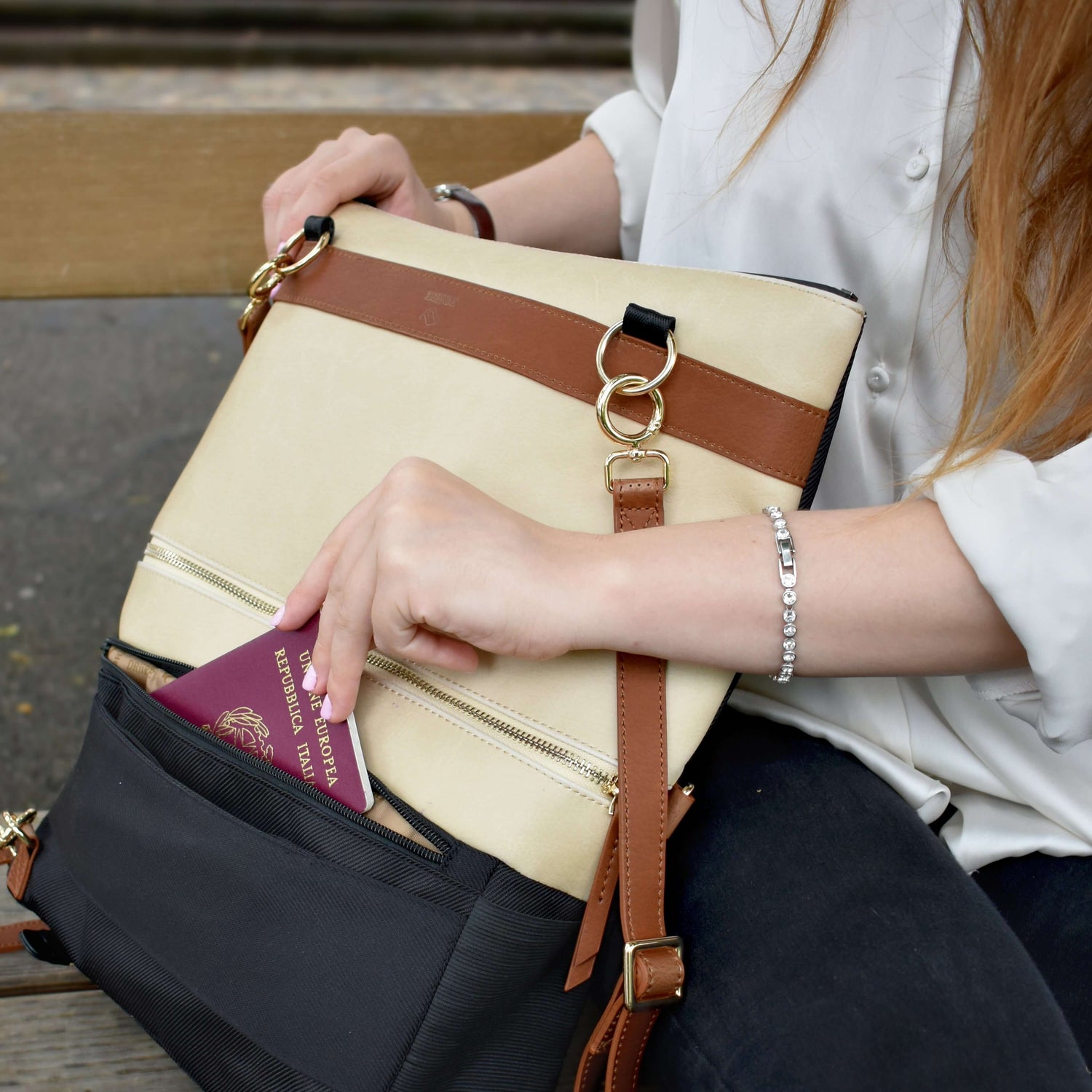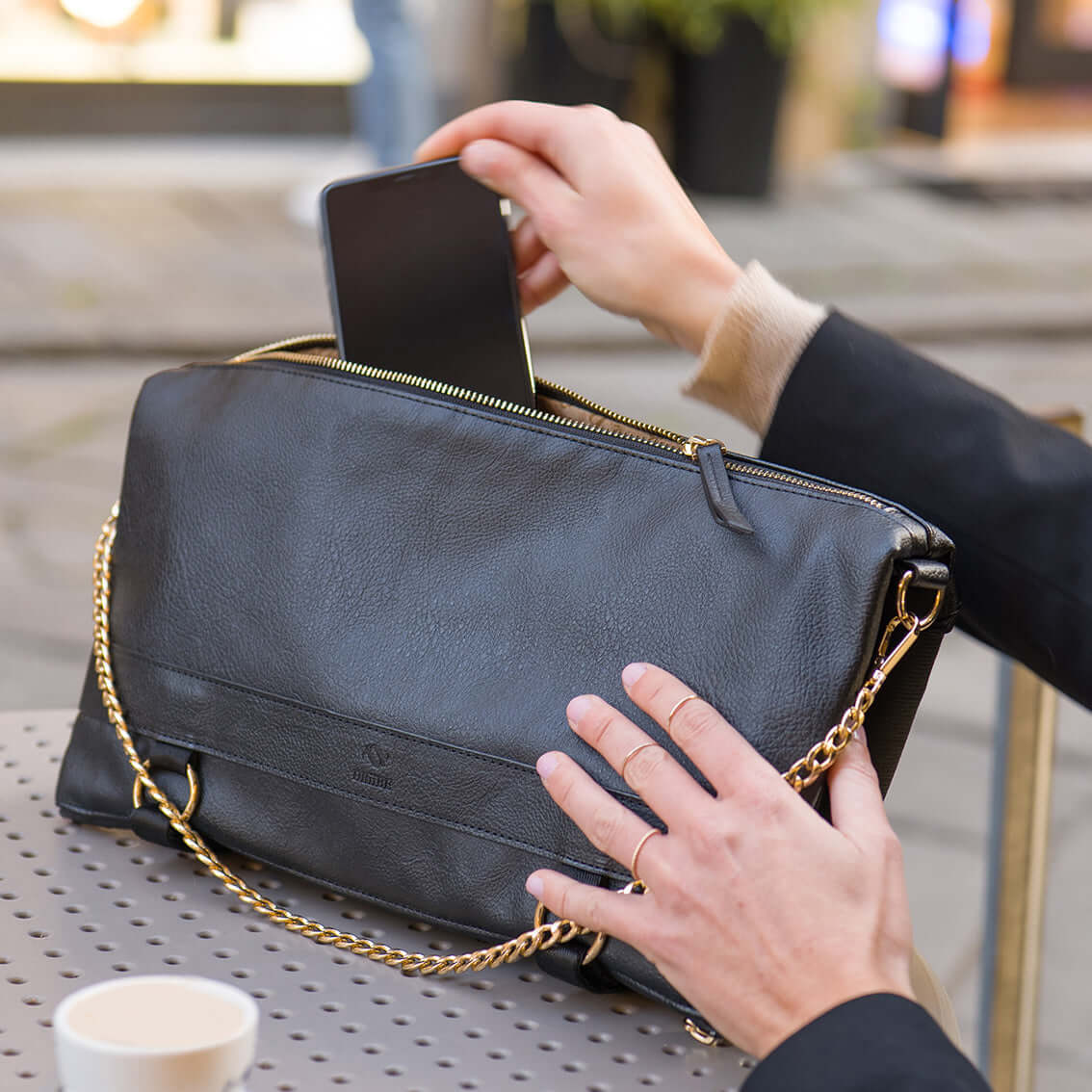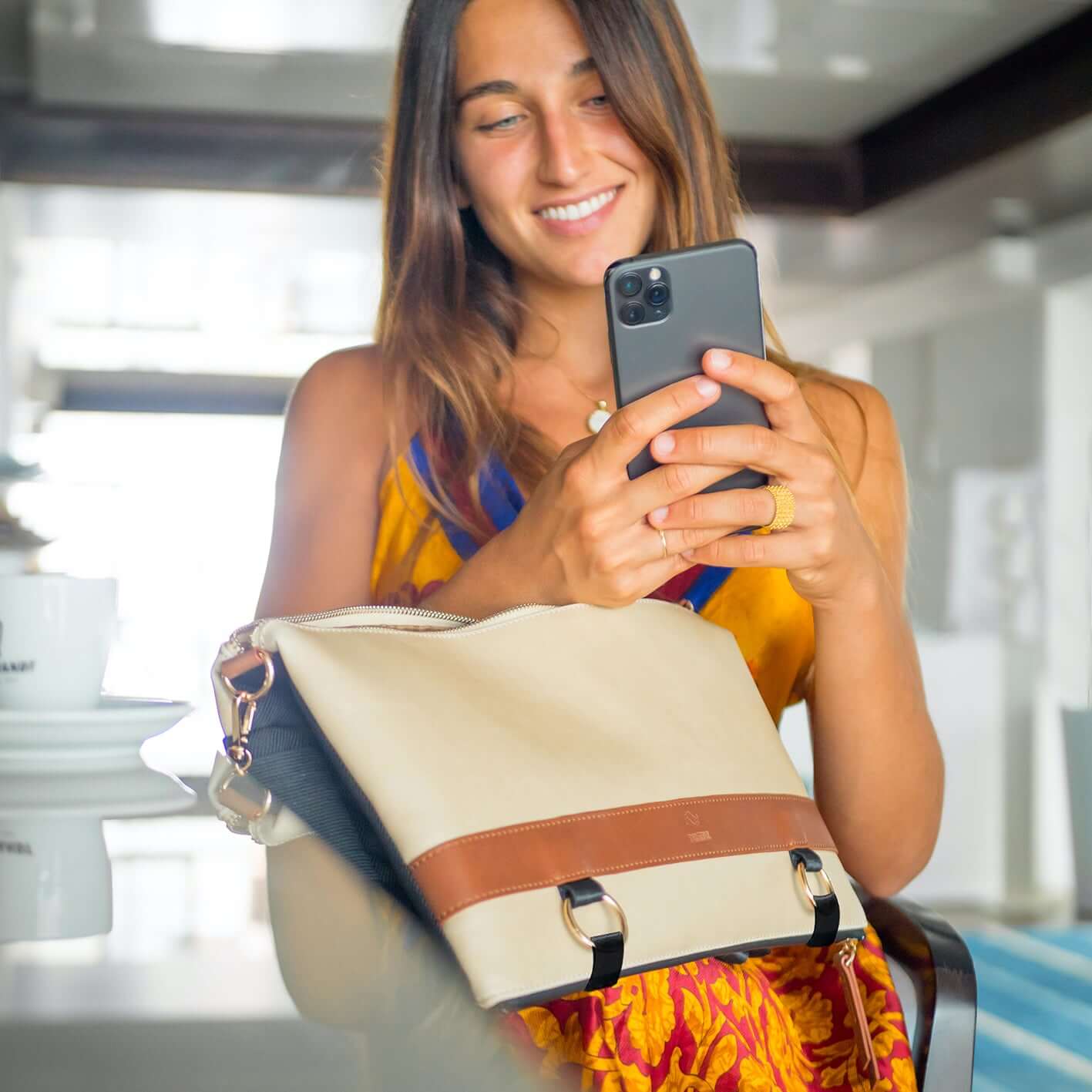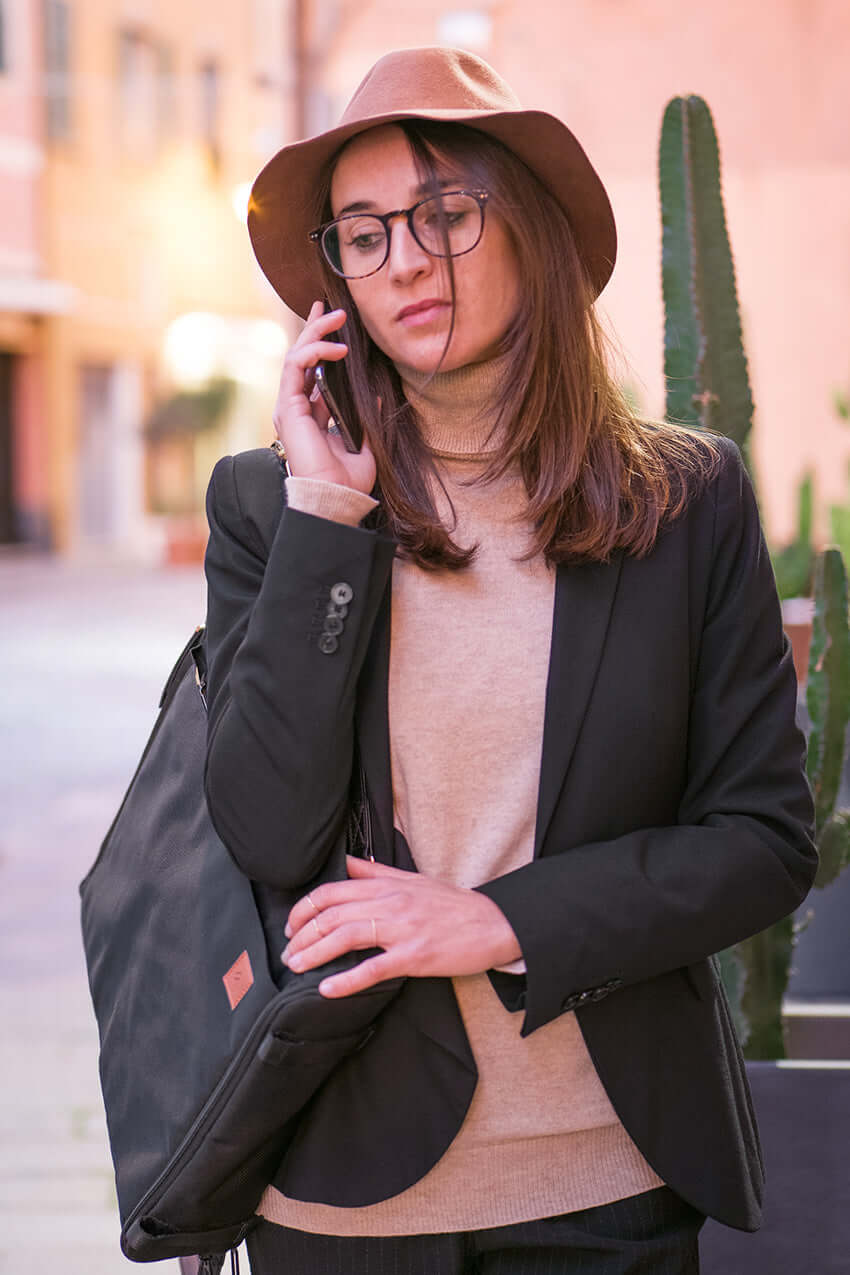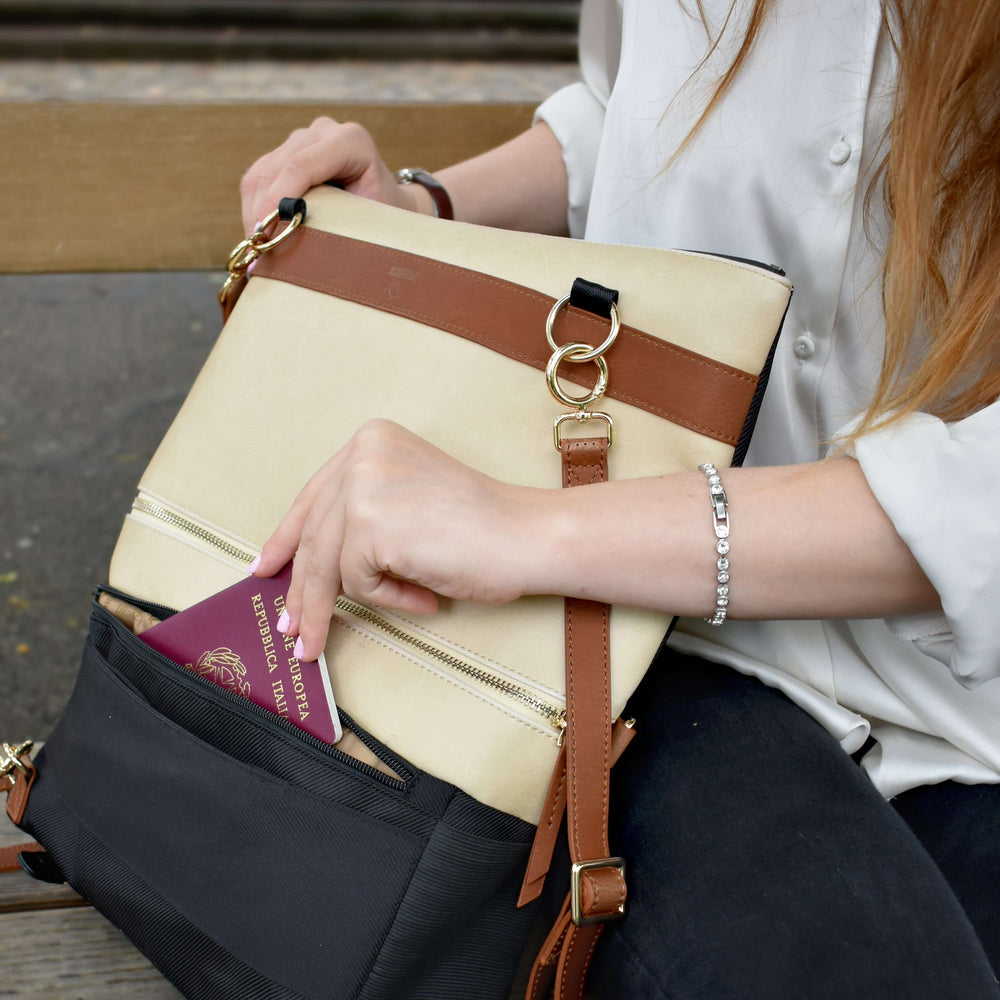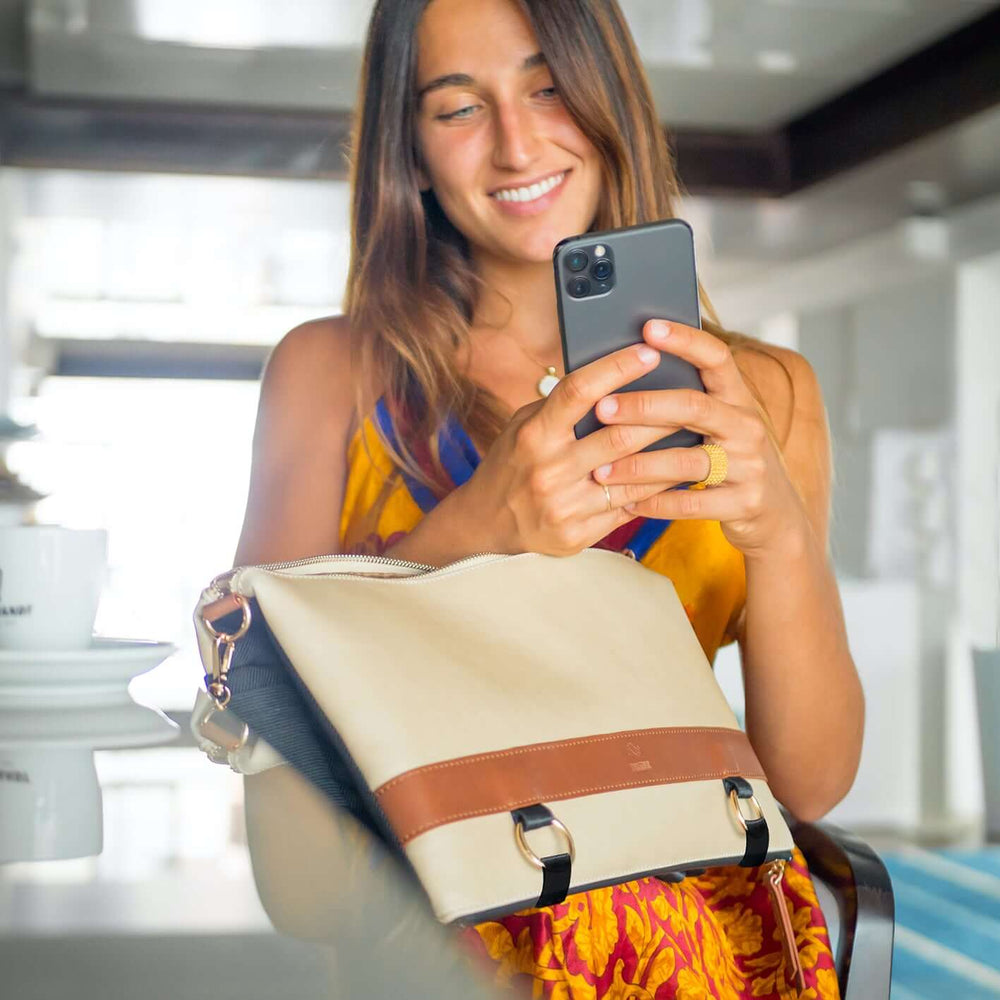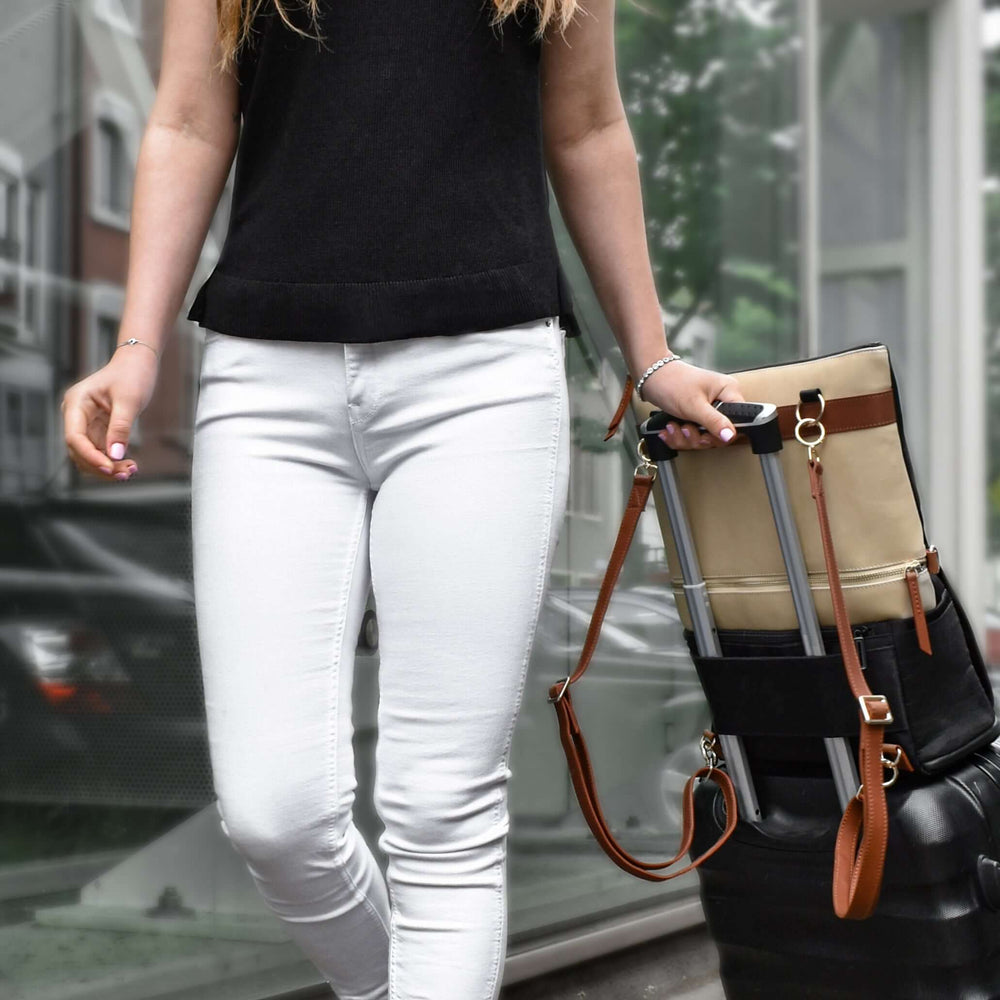 COLOR OPTIONS
The DAKOTA convertible bag is available in the sophisticated Sand version and classic Black version



DAKOTA SAND
The elegant Sand color version with brown details highlights the style of the handbag version and values the diversity between the various versions of this convertible bag. It is the ideal choice for those who love colors, fashion and eye-catching accessories.
DAKOTA BLACK
The Black version of DAKOTA is the best combination of excellent quality, functionality, and timeless elegance. Easy to combine with any outfit, the DAKOTA Black bag is perfect for everyday life, work, and elegant or formal occasions.
27 UNIQUE FEATURES
That make DAKOTA the best women's travel bag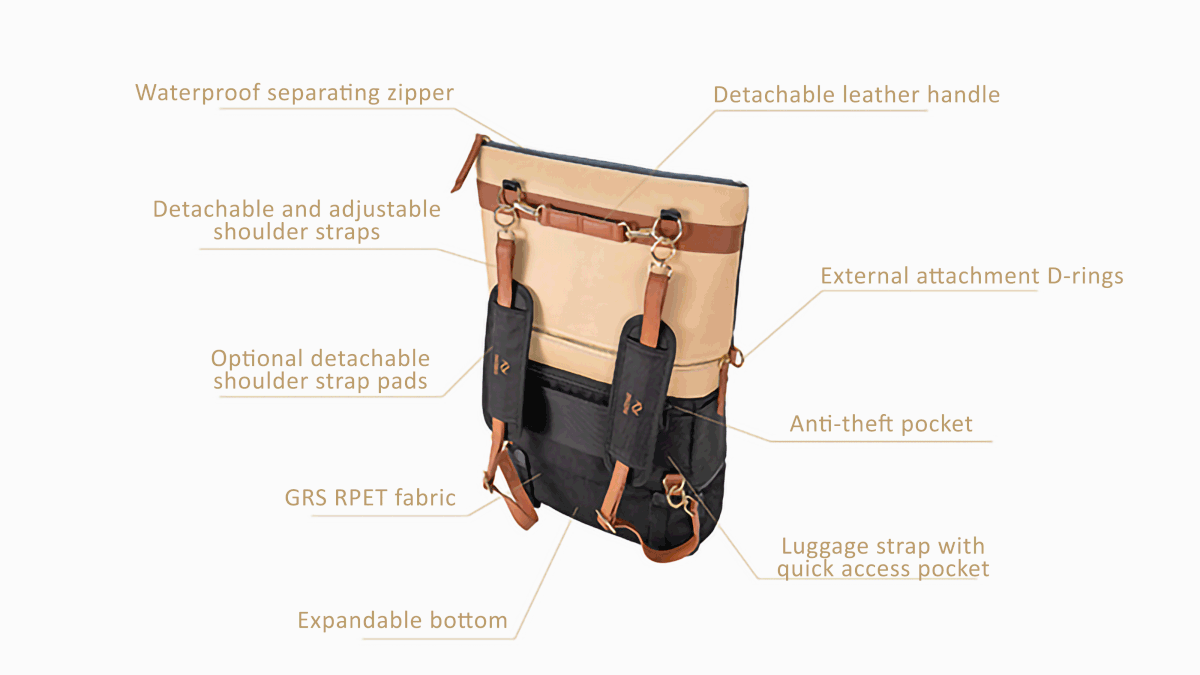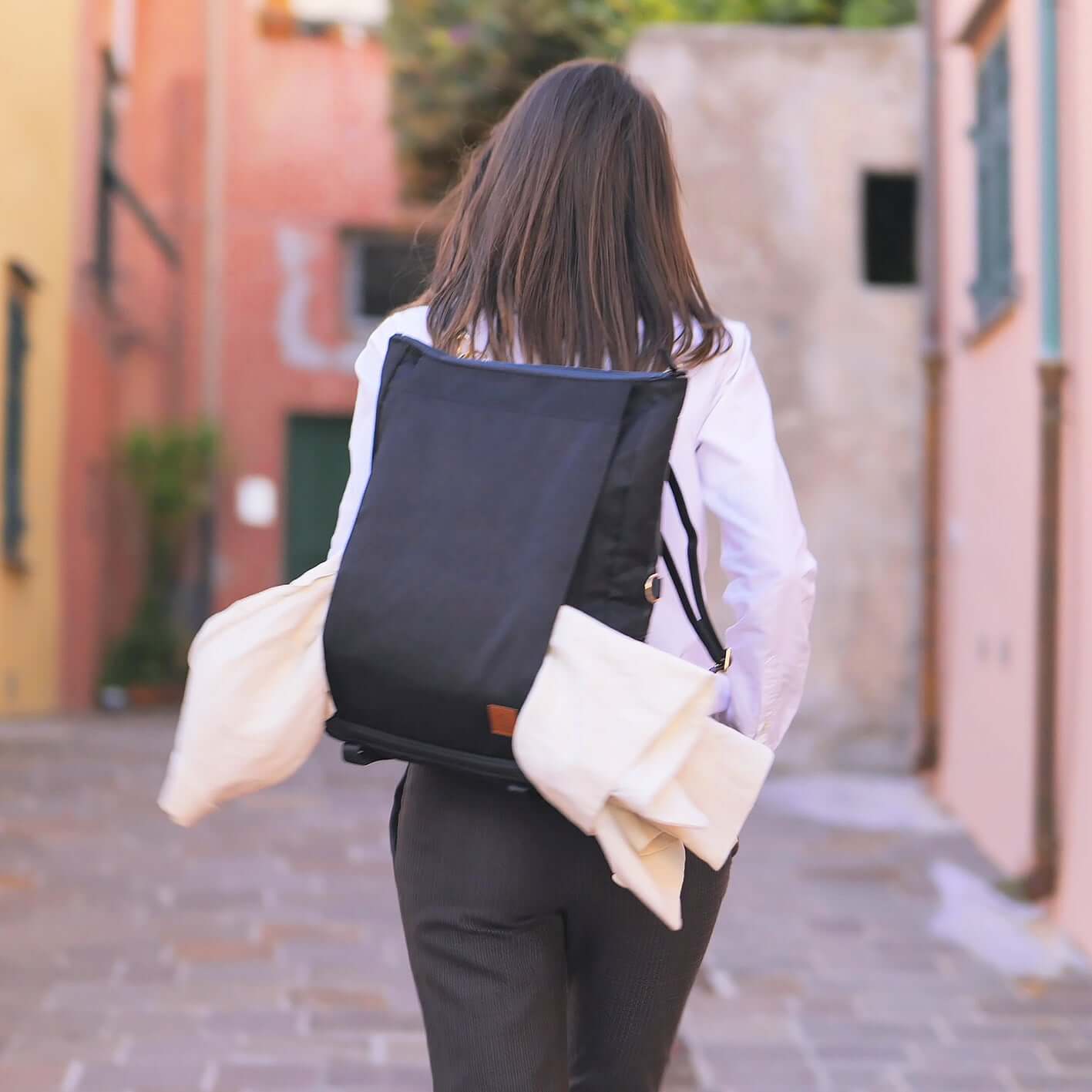 Holder for Jacket or Yoga Mat
The backpack version of DAKOTA is equipped with a large front compartment with side zippers to carry your jacket or yoga mat. You can also use this large pocket to keep a book or an airport security liquids bag handy.
Smart Zippered Pockets
When you switch from one version of DAKOTA to another, you don't even have to worry about emptying its pockets: every thing will be where you put it.
You have two of these pockets: one on the outside - ideal for smartphones and documents and one on the inside for everything else.
Quick Access Pocket Optimized for Left- and Right-Handed Users
Under the jacket holder there is a large zippered elastic pocket.
This discreet extra space is perfect for storing your smartphone, keys, phone charger separately. And it doesn't matter if you are left or right-handed, or if you carry your backpack on your right or left shoulder because you can access this pocket from either side.
Luggage Strap with Pocket
DAKOTA convertible travel bag is equipped with an elegant and discreet luggage strap that allows you to attach it to your suitcase, whether you travel with the handbag or the backpack version.

The luggage strap is equipped with a practical inner pocket where you can store your glasses or your subway ticket. You can take them out even without opening the bag!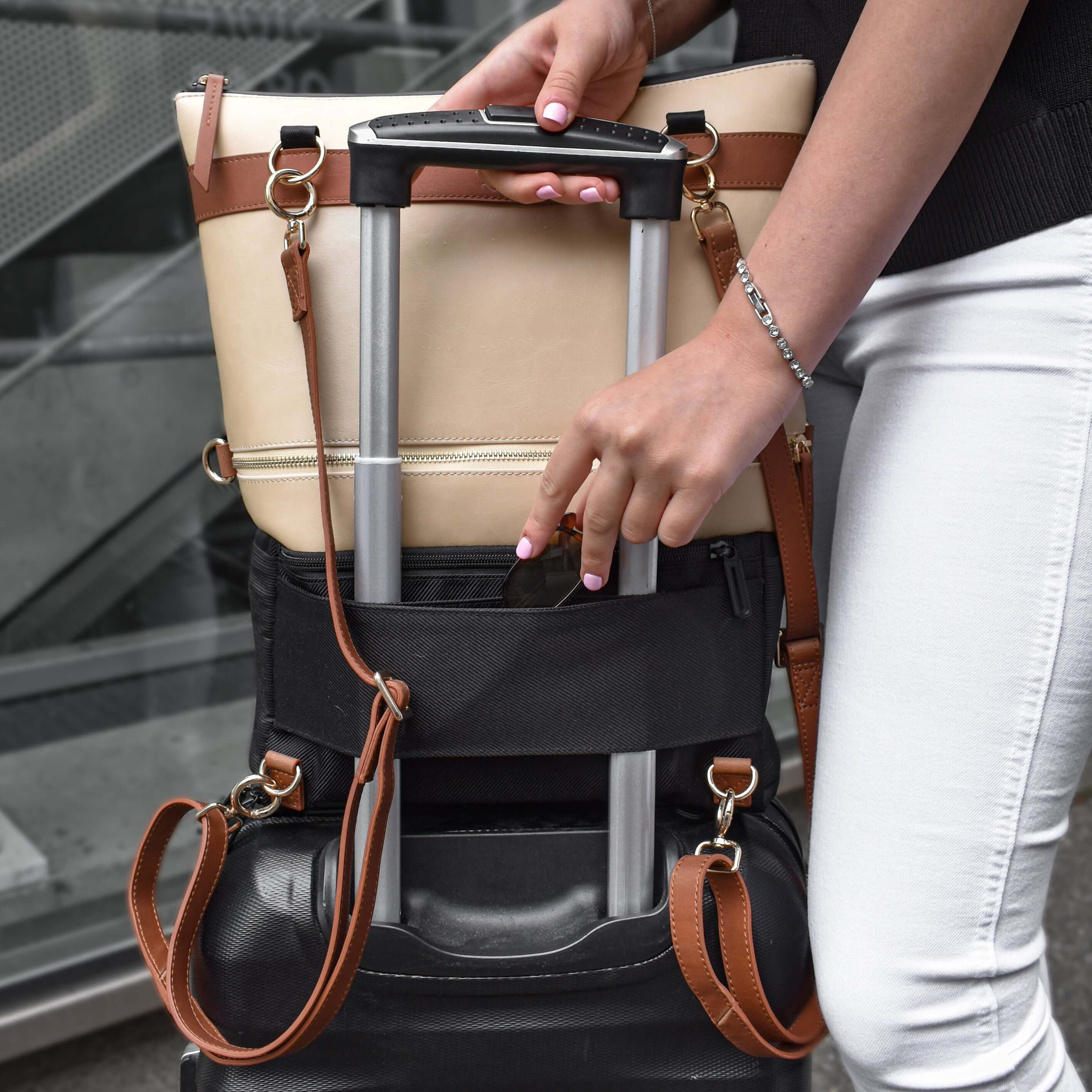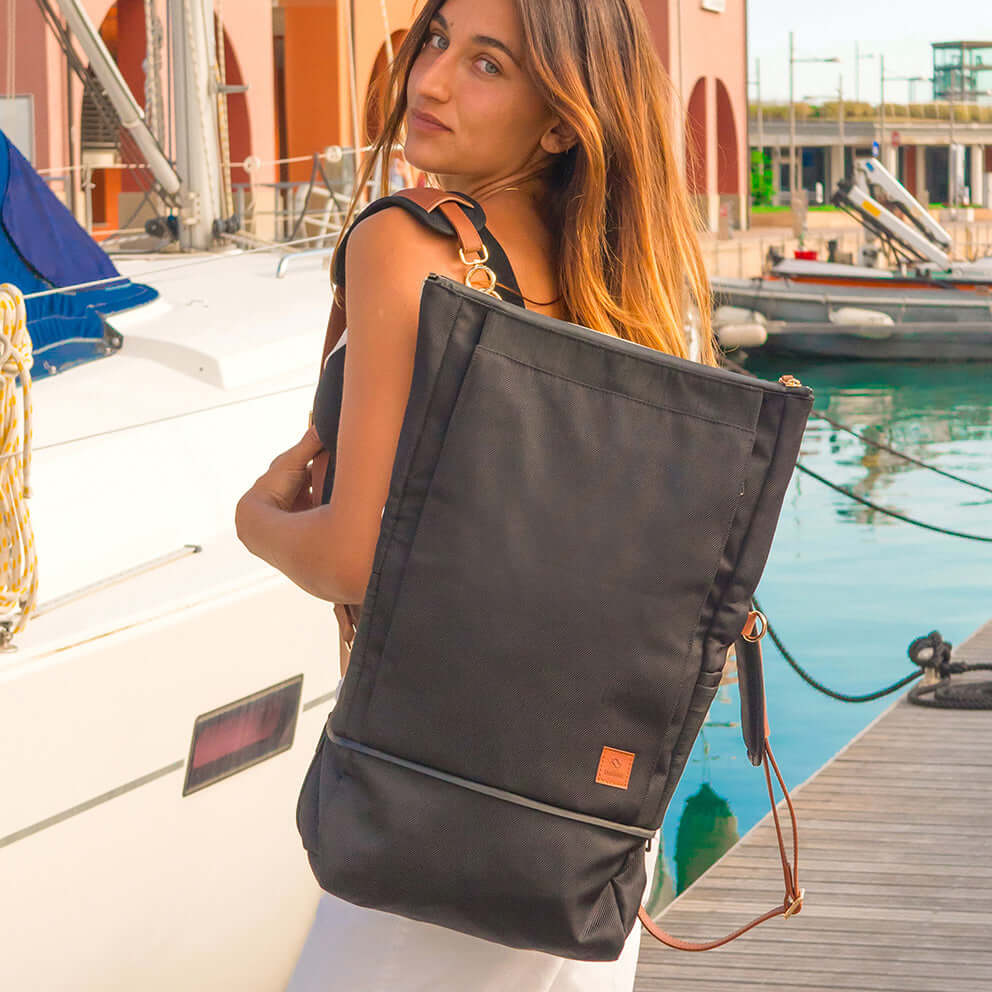 Expandable Bottom
During your trip, there will be times when you will need a larger bag. In those cases, this convertible travel bag has you covered.

Just unzip its bottom and get the extra space in a second!
Laptop Pocket with Waterproof Padding
We know how important your laptop is to you. That's why we have padded this compartment with an additional internal waterproof layer.

Laptop pocket dimensions: 37 x 28cm (14.5 "x 11")
HOW IT WORKS
Handbag, daypack, backpack - all you need in just one bag!
To turn your backpack into a handbag, simply remove the shoulder straps, fold it, close the bottom straps and attach the handle.

To turn your handbag into a daypack, just undo the bottom straps and hook the shoulder straps - that's it!
ACCESSORIES
5 tailor-made accessories that make your DAKOTA even more functional and comfortable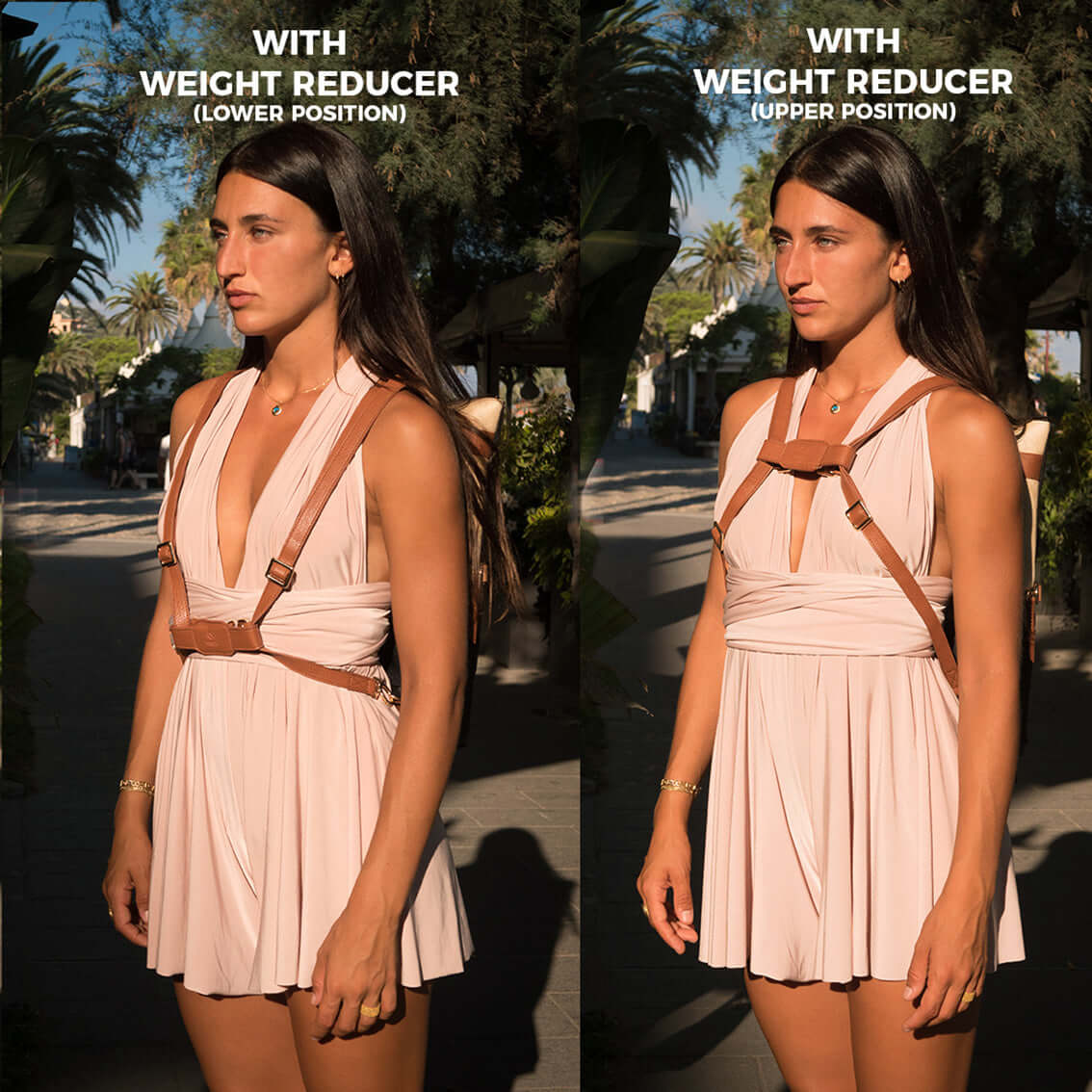 Detachable Weight Reducer
As comfortable as your backpack may be, if you carry a lot of weight on your shoulders for long periods of time, discomfort or pain in your shoulders, neck and back is bound to occur. The only way to counteract these drawbacks is to distribute the weight of your backpack across your shoulders and other parts of your body, such as your chest or waist. And that's exactly what our detachable weight reducer does.

This simple accessory will help you:
1. reduce the weight on your shoulders;
2. maintain a correct posture;
3. stabilise the backpack in relation to your body;
4. have more freedom of movement;
5. prevent pain in your shoulders, neck and back
Detachable Leather Handle for Backpack
We know how annoying it is to handle a heavy backpack without a handle.

That's why we have equipped DAKOTA with an elegant leather handle that adds greater comfort and style to your backpack.

Of course, it is detachable - after all, we don't want to spoil the purity of your handbag's design!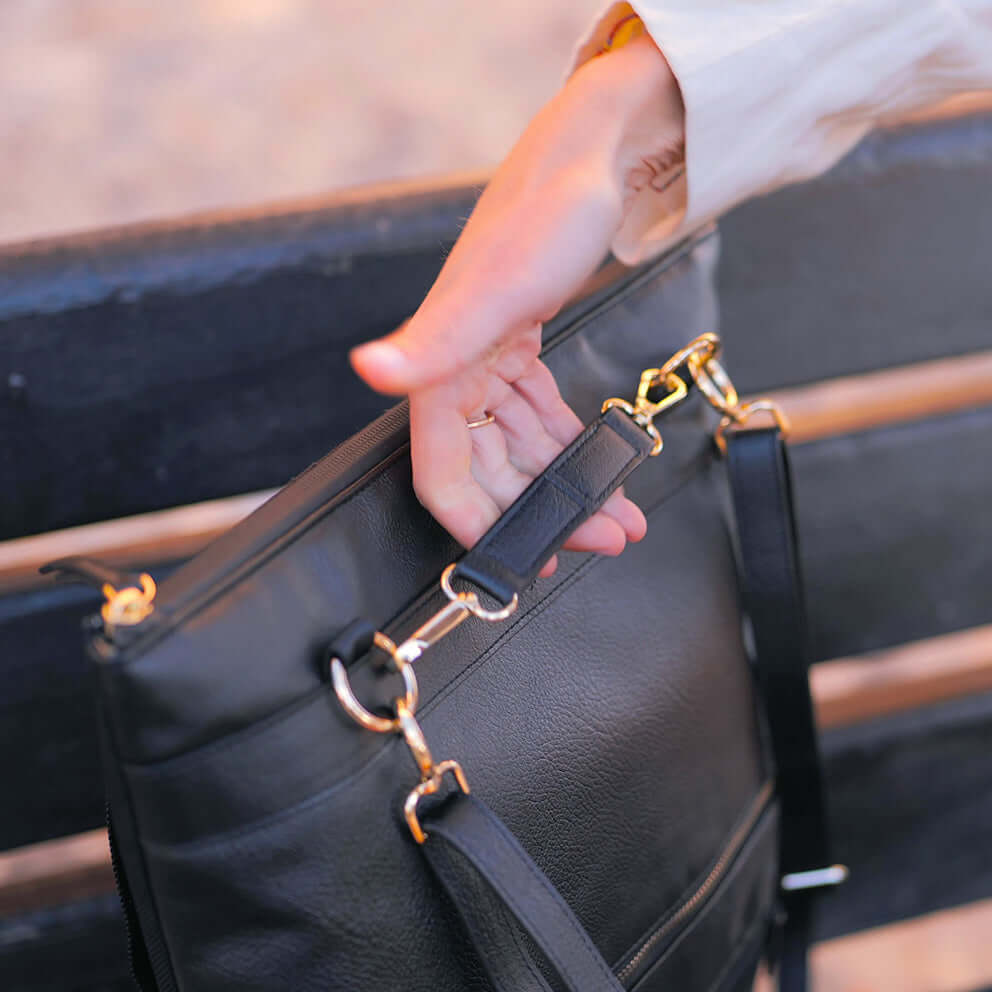 Chain Handle with Leather Pouch
Looking for a more glamorous look?

Add the chain handle instead of the leather one and transform DAKOTA once more!

You can also use the chain as an elegant and practical keychain. Attach your keys to the bag and find them in no time.

This accessory comes with an elegant leather pouch coordinated with the bag.
High Strength-to-Weight Ratio Shoulder Strap Pads
Detachable shoulder strap pads with a high strength-to-weight ratio are an indispensable accessory to safeguard the well-being of your shoulders when you travel with a heavy bag.

Our shoulder strap pads have a special internal structure of two layers. The semi-rigid first layer ensures high shock absorbency and uniform weight distribution. The second soft layer provides maximum comfort to your shoulders.

When you don't use them, put them in the waterproof pouch and hook it to the bag.
Tailor-Made Rain Cover
The rain cover effectively protects your bag from water and dirt.

Customly designed for DAKOTA, this rain cover perfectly fits both the compact and extended version of the backpack and allows you to access inside even without removing it completely.

The reflective DRiiBE logo makes you more visible in low visibility conditions, increasing your safety on the road.

Has the sun come out again? Store the rain cover in its waterproof bag and hook it to the DAKOTA bag.
THE MATERIALS
No compromise on quality, no renunciation of sustainability
The benefits derived from the exceptional functionality of DAKOTA convertible travel bag are enhanced by the use of the most innovative and environmentally sustainable materials available on the market.

We only use tested and certified ecological materials. Each part of the bag is made from the most suitable ecological material, in order to guarantee the best functionality and the most satisfying aesthetic impact.
To give the handbag more elegance and style, we chose DMF free water-based PU leather and italian bio-based PU Leather VIRIDIS.
DMF free water-based PU leather

Unique properties of DMF free water-based PU leather:

• 100% Vegan
• Non-toxic, no peculiar smell because it does not contain DMFa, DMFu, o-benzenes, PAHs, APEO, azo, PBA and other harmful chemicals
• Meets the industry's highest environmental standards (REACH, ZDHC, etc.)
• Top overall physical properties (abrasion resistance, cold resistance, breathability, ageing resistance, soft texture and beautiful appearance)
• Excellent eco-friendly properties
• Less energy consumption and no waste water and exhaust gas for its production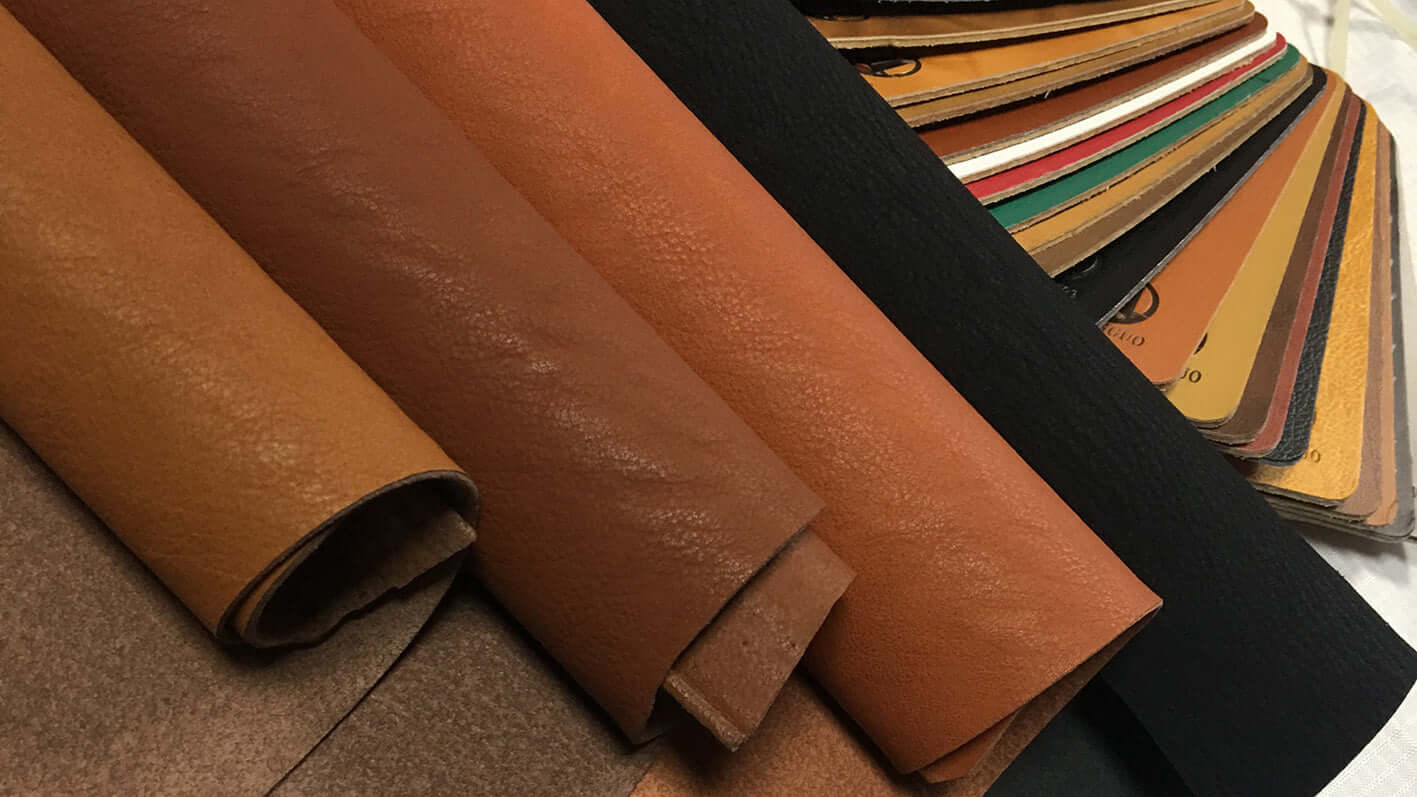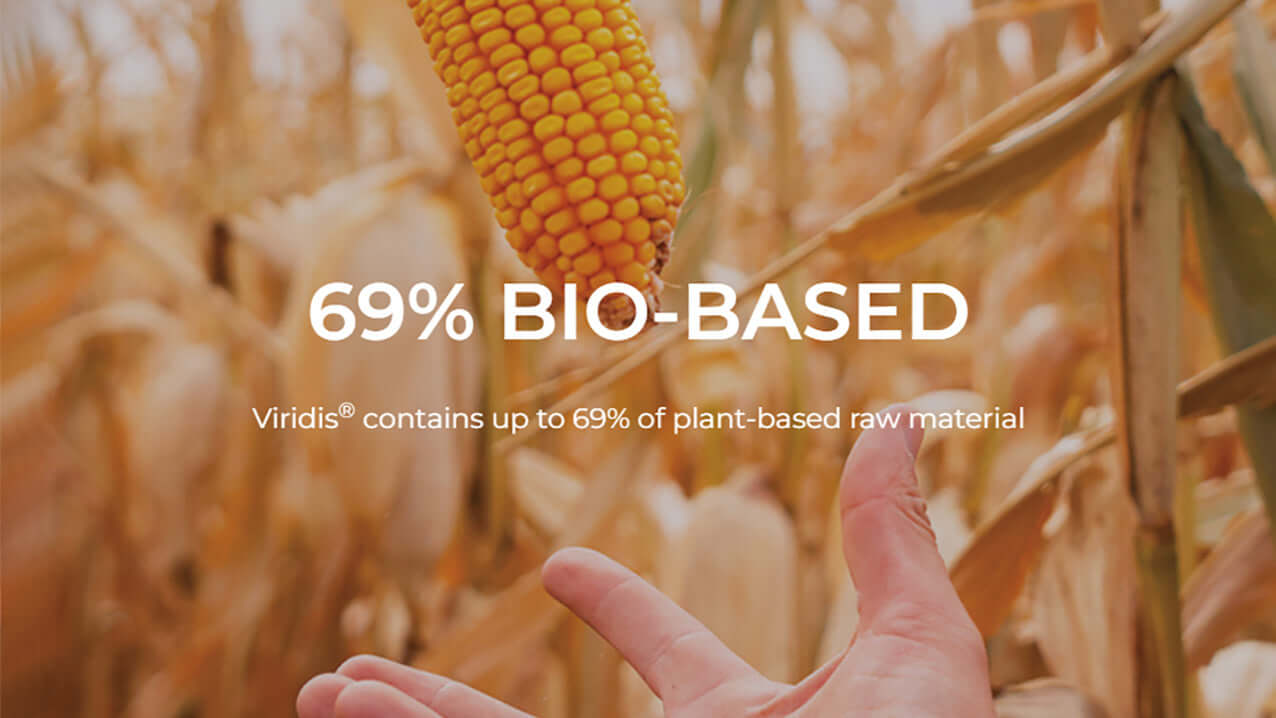 Viridis® BIO-based PU Leather

Some of leather parts are made of Viridis® - an innovative and certified material made of 69% renewable BIO-based components, mostly derived from corn and wheat by-products.
This vegan leather has the same look and perfomances as genuine leather, but is much more eco-sustainable than other synthetic fabrics and is approved by PETA ( People for Ethical Treatment of Animals ).
Viridis® is the only PU made with renewable resources: it contains 43% of polyols coming from GMO-free corn and wheat, 26% of Viscose for the back side and 31% of normal PU.
RPET

To ensure to DAKOTA daypack and backpack versions more practicality, functionality and sustainability, we chose to use lightweight RPET fabrics, characterized by a genteel look and feel.

RPET is a high quality polyester made from recycled plastic bottles.
We use only recycled fabrics compliant with GRS (Global Recycled Standard) standards which guarantee responsible production without the use of harmful chemicals, the verification of the recycled materials and the certification of each stage of the supply chain.
TRAVEL TESTED
We had asked some female travelers to put our DAKOTA to the test. It was a no holds barred test, but DAKOTA passed it with flying colors!
Included:

- 1 DAKOTA Convertible Bag
- 1 Detachable Weight Reducer
- 1 Chain Handle with Leather Pouch
- 1 Leather Handle for Backpack

Included:

- 1 DAKOTA Convertible Bag
- 1 Detachable Weight Reducer
- 1 Chain Handle with Leather Pouch
- 1 Leather Handle for Backpack

**THIS PRODUCT IS PROTECTED BY THE INTERNATIONALLY REGISTERED DESIGN