DESCRIPTION
FEATURES
SPECIFICATIONS
DESCRIPTION
These 2-in-1 women's travel pants are designed to adapt to various situations, such as weather changes or different activities. Wearing DownUNDERS pants, you can visit a museum and then take a walk down by the water afterward.

The adjustable length, comfortable fit, and amount of pockets make these pants an absolute must-have for all travel lovers.
FEATURES
• 2-in-1 pants with adjustable length
• Long and short travel pants in a single product
• 5 deep pockets
• Practical drawstring waist
• Durable, wear resistant natural fabric
• Comfortable fit
SPECIFICATIONS
Fabric: 95 % cotton 5 % elastane

Machine washable, 30° max.
Adjustable length
In seconds, you can change the length of these unique 2-in-1 pants. Four laces allow you to shorten DownUNDERS up to your knees, and you can also turn up the bottom of your pants when you need to.
That means you get two different pants by buying just one. A sustainable choice that goes towards being environmentally friendly.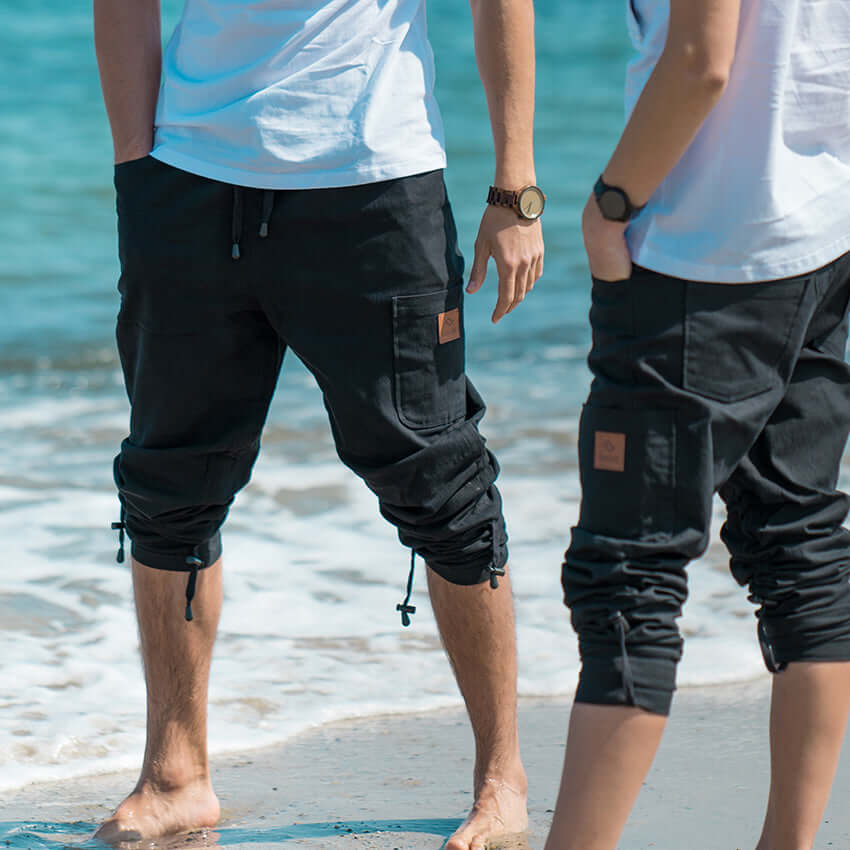 Many deep pockets
Two pockets on the back, two on the front and one on the side: when you travel you must be able to carry what you need with you.
Thanks to a smart design, the pockets of these cargo pants are deep but discreet, spacious but not bulky.
Eco friendly and comfortable
Cotton and Elastane: the perfect recipe to make you feel good and comfortable in movements. The mid-weight windbreak cotton provides excellent thermoregulation, allowing the DownUNDERS to adapt to different weather conditions.
Elastane prevents the pants from wrinkling and allows greater comfort.
Designed for travel
Landing in the other hemisphere and suddenly feeling hot: do you know the feeling? Shorten your pants in seconds and enjoy the pleasant temperature!You will be surprised in how many situations it will be helpful for you to change the length of your pants.
Elegant branded packaging
We'll ship DownUNDERS in our elegant branded packaging bag, perfect even if you think of giving them as a gift.
In line with our philosophy, the bag is useful too: use it to organize your stuff when traveling!