DESCRIPTION
SPECIFICATIONS
FEATURES
DESCRIPTION
Whether you are an urban explorer, fitness enthusiast, travel lover or supporter of sustainable fashion, in this bag you will find the accessory for your needs.

With its ultra-modern 4-in-1 design, the HOLIDAY bag easily converts from a crossbody to a mini backpack, duffle bag, or full-sized backpack to meet your ever-changing needs.

Crafted from high-quality, sustainable materials, this convertible bag is both lightweight and durable. It features a water-resistant shoe compartment, a pen holder, and numerous zippered pockets in all configurations, providing ample storage space for all your essentials.

Take it on vacation, to sports activities, weekend trips, or outings with friends, and enjoy the convenience of having one bag for everything. And when you're not using it, you can easily store it in a small drawer, making it a space-saving solution for your storage needs.

Don't settle for a boring single-use bag when you can have a state-of-the-art multi-purpose bag! Upgrade to the HOLIDAY 4-in-1 convertible bag and experience the perfect balance of style, functionality, and sustainability for all your adventures.
SPECIFICATIONS
Crossbody/Mini backpack:
H 8.4 "x W 7.8" x D 3.1" ( H 25x W 20x D 8 cm)

Duffle bag/Backpack:
H 10.6 "x W 19.7" x D 7.8" (H 27x W 50x D 20 cm)

Volume: 2 - 27L

Weight: 2.16 lbs (980g)

Material: Material: Recycled polyester (RPET), DMF free water-based PU leather

Included accessories:
• Detachable leather/nylon shoulder straps ( 2 pcs)
• Detachable nylon strap ( 1 pc)
FEATURES
• 4-in-1 eco design.
• External zippered pockets in all versions.
• Water resistant shoe compartment in the the duffle/backpack version.
• Triple side handles in the the duffle/backpack version.
• Pen holder in the crossbody/mini backpack version.
• Internal pocket in the crossbody/mini backpack version.
• Internal zippered pocket in the the duffle/backpack version.
• Luggage strap in the duffle/backpack version.
• Detachable and adjustable leather/nylon shoulder straps.
• Detachable and adjustable nylon strap.
• Up to 27 liters of storage space.
• Stain, water and scratch resistant.
• High-end branded lining.
• Exclusive recycled paper gift box.
• DMF free water-based vegan leather as the main crossbody/mini backpack's material.
• GRS (Global Recycled Standard) RPET as the main duffle/backpack's material.
Unmatched versatility
The HOLIDAY convertible bag is a game-changer when it comes to versatility. Whether you need a practical crossbody bag for running errands, a mini backpack for hanging out with friends, a stylish gym bag for your workout sessions, or a travel backpack for a weekend getaway, the HOLIDAY bag has got you covered.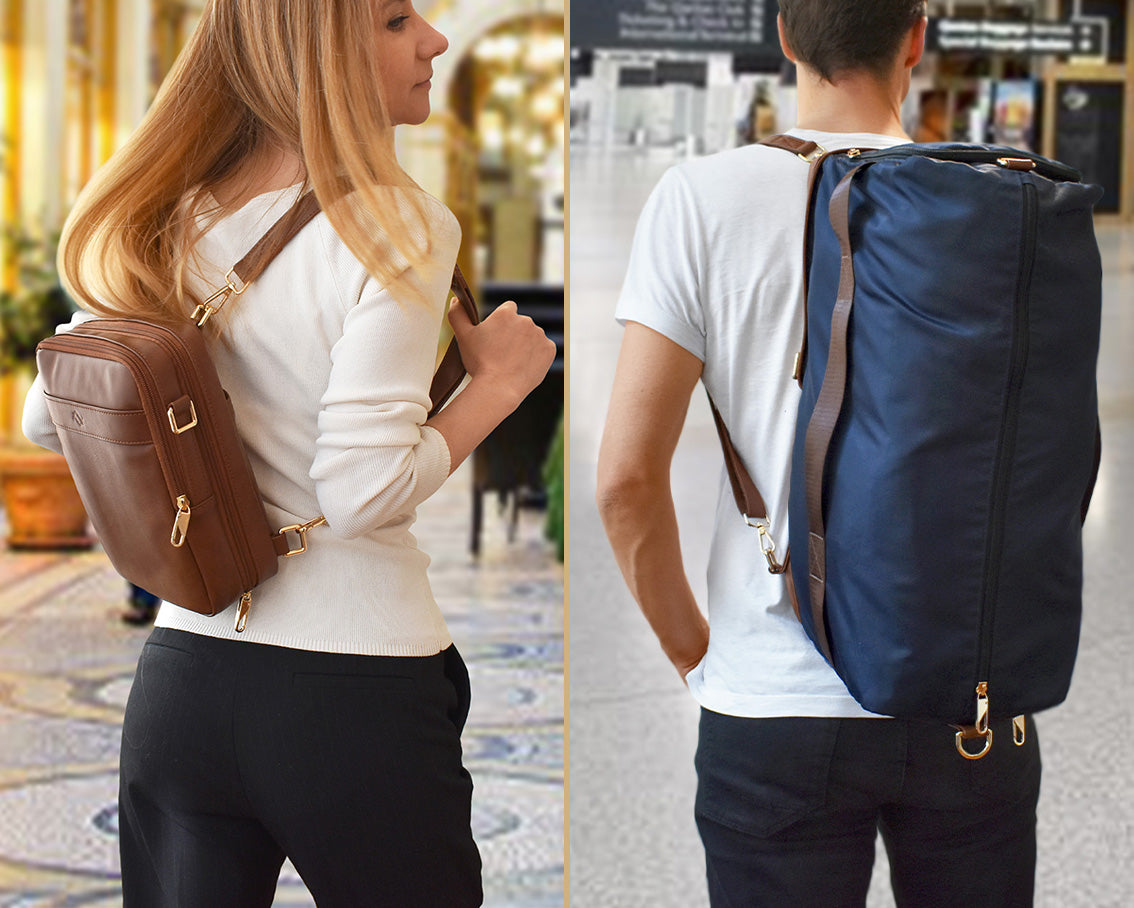 Sustainable at 360°
Like all our bags, the HOLIDAY bag combines carefully selected ecological materials with the "+in1" concept. This way you don't have to buy multiple bags, which ultimately decreases waste and overproduction, promoting a more sustainable lifestyle.
Perfectly organized
Whichever version of the HOLIDAY bag you're using, you can be sure that your essentials will be perfectly organized and easy to find. With its thoughtfully designed pockets and compartments, this bag makes it easy to stay on top of your busy life, no matter where your day takes you.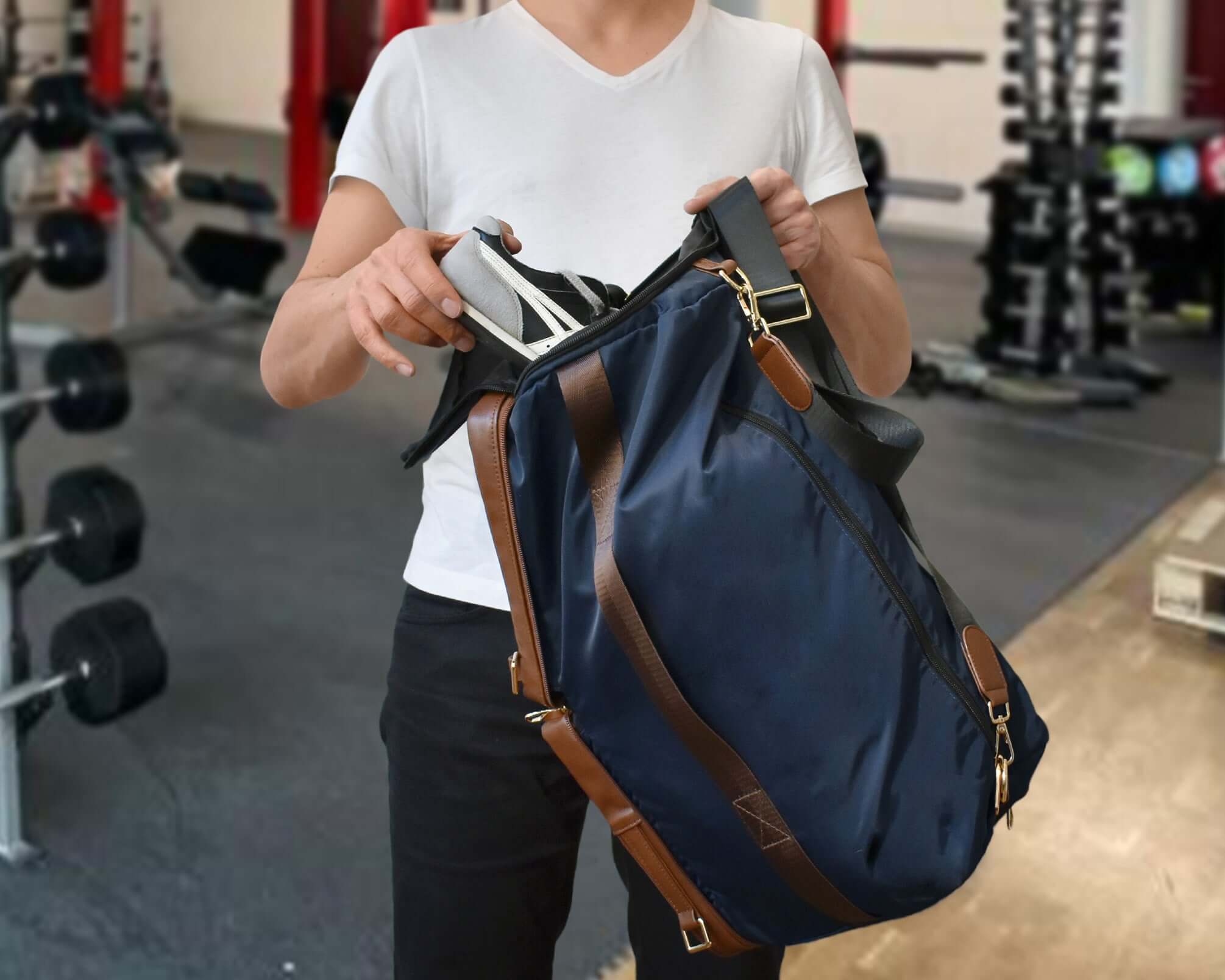 Shoe compartment to keep it clean
The HOLIDAY duffle and backpack versions have a practical shoe compartment that's perfect for keeping your dirty or damp clothes and shoes separate from the rest of your belongings. Whether you're carrying your muddy hiking boots, sandy beach towel, or damp bathing suit, this compartment ensures that your clean clothes and gear stay dry and fresh.
Easy Grip & Carrying
The HOLIDAY duffle bag and backpack feature long triple side handles on each side. These handles provide three grip points on each side, making it easy and comfortable to handle your bag, no matter how heavy it is. But that's not all - the middle sections of the handles also allow you to attach the bag to your suitcase so you can roll your luggage through the airport with ease.