DESCRIPTION
SPECIFICATIONS
FEATURES
DESCRIPTION
Elegant, practical, sustainable. That's DAKOTA - the fully convertible backpack purse. The black version of the DAKOTA bag is perfect for all seasons and occasions, be it work, travel or leisure.
Included accessories:
• Detachable weight reducer
• Detachable backpack handle in leather
• Chain handle with elegant leather pouch
SPECIFICATIONS
Handbag: H 20 x W 29 x D 11 cm
(H 7.9 "x W 11.4" x D 4.4 ")

Daypack: H 41 x W 29 x D 11 cm
(H 16.2 "x W 11.4" x D 4.4 ")

Backpack: H 52 x W 29 x D11 cm
(H 20.5 "x W 11.4" x D 4.4 ")
Laptop pocket dimensions:
37 x 28cm (14.5 "x 11")
Included accessories:
• Detachable weight reducer
• Detachable backpack handle in leather
• Chain handle with elegant leather pouch

Storage Space: up to 12 L

Weight: 805g ( 1.77 lbs)

Material: Recycled polyester (RPET), DMF free water-based PU leather
FEATURES
• 3-in-1 fully convertible design.
• Two main internal compartments and two internal pockets in the handbag version.
• Elegant luggage strap for all versions.
• Quick access pocket in the luggage strap.
• Two elastic side pockets.
• Anti-theft pocket.
• 15.6" laptop compartment with an additional waterproof layer in the backpack version.
• Internal smart zippered pocket for all versions.
• Hidden external zippered pocket in the backpack version.
• Jacket or yoga mat holder in the backpack version.
• Expandable bottom in the backpack version.
• Detachable and adjustable leather shoulder straps.
• Detachable chain handle for handbag.
• Detachable leather handle for backpack.
• Removable weight reducer.
• Optional detachable shoulder strap pads.
• Optional tailor-made rain cover.
• Padded backpack back panel.
• External attachment D-rings.
• Waterproof separating zipper for backpack.
• Up to 12 liters of storage space.
• Lightweight.
• Stain, water and scratch resistant.
• High-end branded lining.
• Exclusive recycled paper gift box.
• DMF free water-based vegan leather as the main handbag material.
• GRS (Global Recycled Standard) RPET as the main backpack material.
3-in-1 Convertible Design
Unlike other convertible bags that do not actually undergo any significant transformation, DAKOTA is truly able to change its shape, volume, and look in a matter of seconds.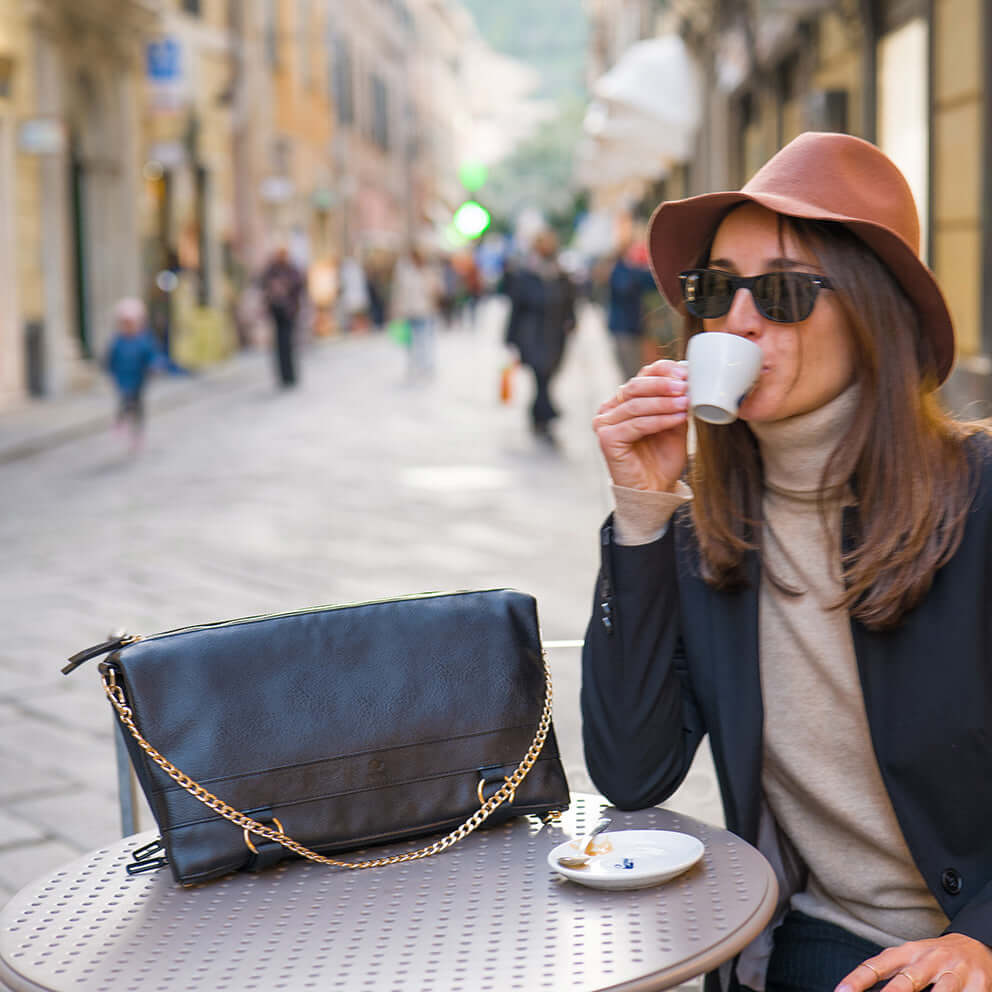 Made for Women
You can finally travel with a truly elegant, feminine bag, carefully designed to meet your personal travel needs.
The Only Bag with 27 Features
The DAKOTA convertible backpack purse has everything you could need: from numerous pockets, luggage strap, jacket holder to waterproof 15.6" laptop compartment or detachable shoulder straps and handles.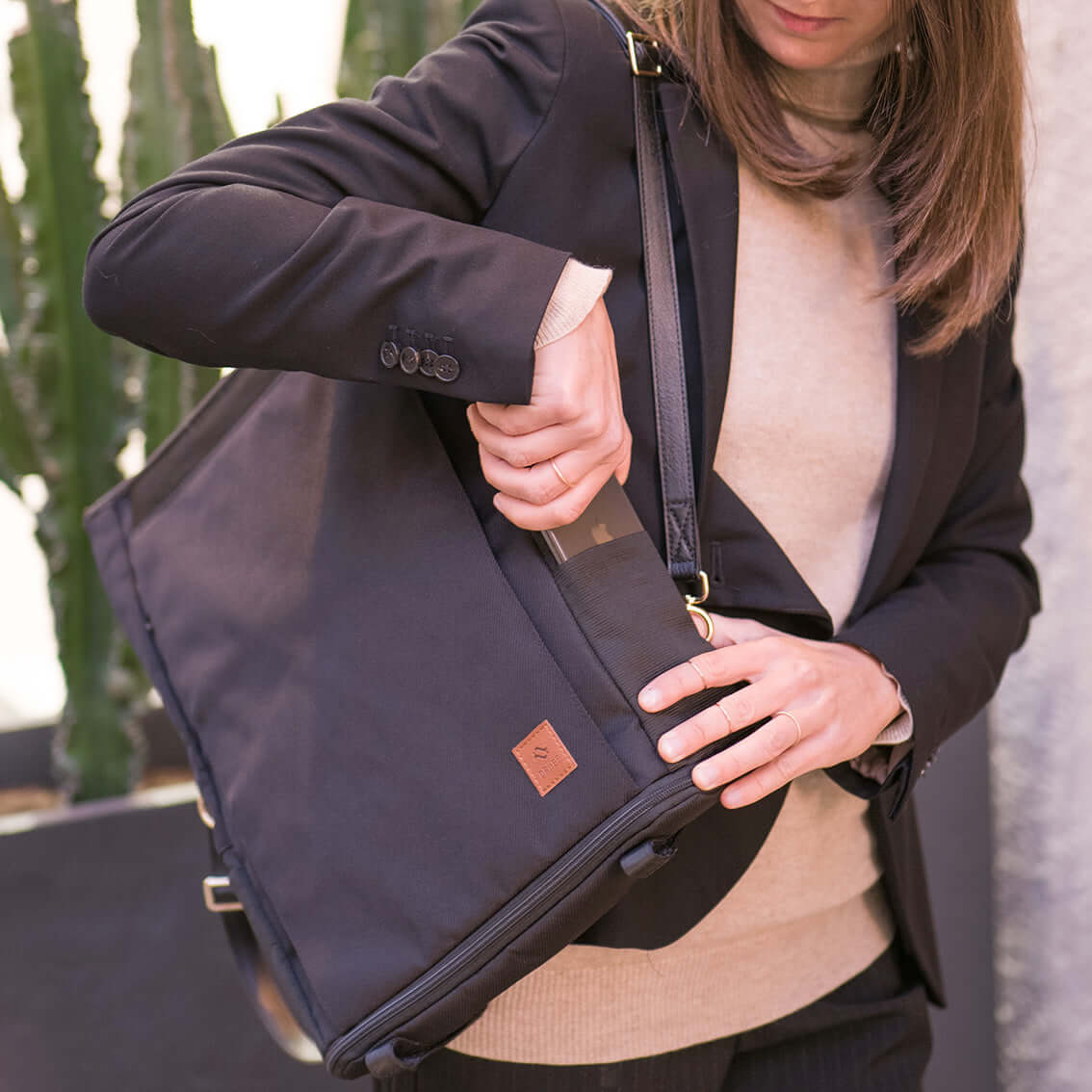 Connected Pockets System
When you switch from one version of DAKOTA to another, you don't even have to worry about emptying its pockets: every thing will be where you put it. You have two of these pockets: one on the outside - ideal for smartphones and documents and one on the inside for everything else.
Tailored for Travel
You'll never have to pack any bags in your suitcase again! With the DAKOTA Convertible Bag, you'll have an elegant handbag for dining out, a stylish daypack for city tours or an afternoon on the beach, and a roomy backpack for longer trips and flights. And all this in just one bag!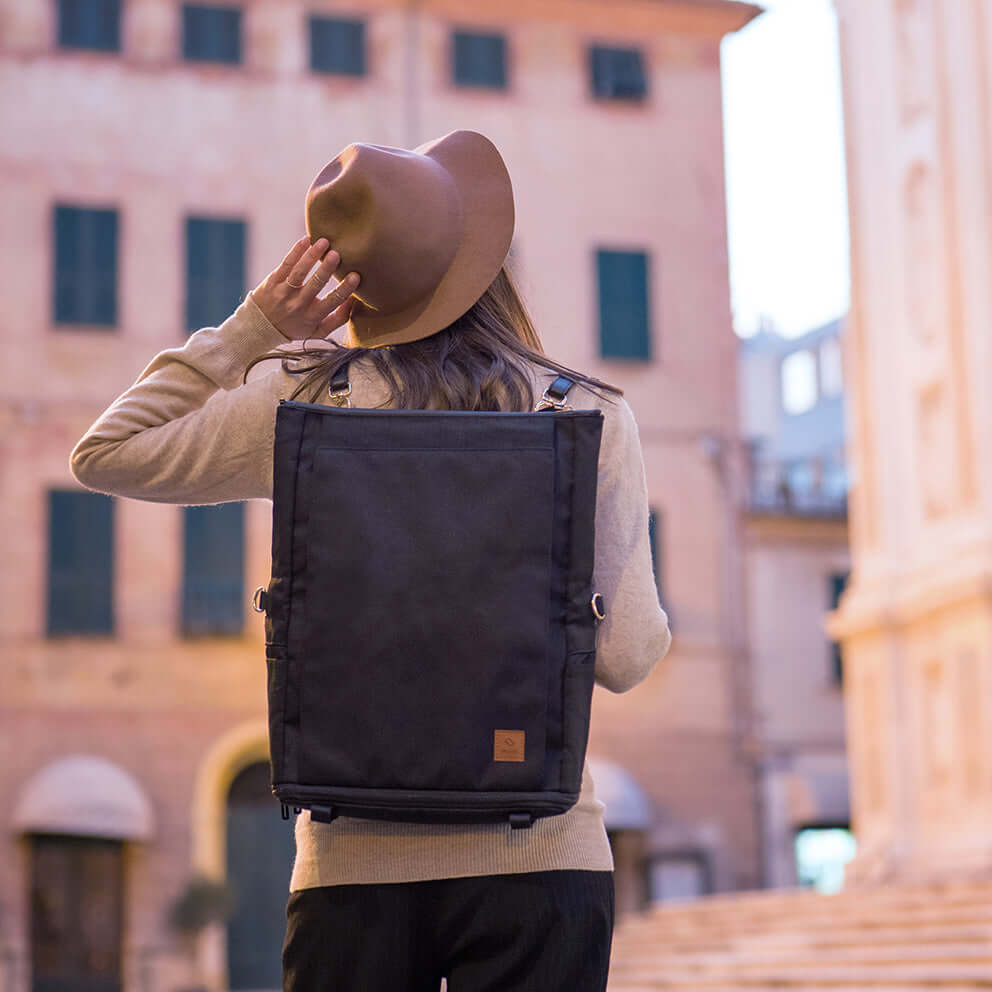 100% Vegan & Sustainable
Made from certified sustainable materials like vegan water- or corn-based leather and recycled plastic fabric, and with the "+ in 1" philosophy in mind, this convertible backpack purse has the lowest environmental impact of any other bag on the market.
Accessorized for Maximum Comfort
DAKOTA comes with three essential accessories – a weight reducer, a leather backpack handle, and a chain handbag handle – to enhance comfort and performance. Additional accessories, a rain cover and shoulder strap pads, can be purchased separately.